If you're searching for a flight to LA, most sites will only show flights to Los Angeles International airport (LAX), but did you know there are four other major airports in the LA area that might better suit your needs?
A Guide to Los Angeles Area Airports
LAX surely has many more flight options than the alternate airports, but it is also a massive traffic jam nearly 24/7. Since the greater LA area is so spread out (and traffic is horrendous), it may make sense to choose a flight to an alternate airport if there is a suitable flight schedule.
Although lacking in public transit options, you'll find less congestion and a more relaxing travel experience at any of the LA area's smaller airports. Here's a breakdown of all five LA area airports and how they compare in regards to flight networks, transportation options, and location.
Los Angeles International Airport (LAX)
Chances are you'll find the cheapest and shortest flights to LAX. There is no other airport in the area that even comes close to the route network that LAX offers. With nonstop flights to every continent on the globe (except Antarctica, of course), LAX is one of the most important hubs in the world, let alone the U.S.
The downside is that the area surrounding LAX is almost always congested with traffic and it can sometimes take over an hour just to get in and out of the airport. While there is a train under construction, for now there's nothing, which means you'll surely be stuck in gridlock when traveling to/from LAX.
Los Angeles International Airport is located approximately 17 miles from downtown and within about 10 miles from popular beach neighborhoods in Venice, Santa Monica, and Manhattan Beach. Its proximity to downtown and these tourist-centric neighborhoods along with the sheer number of flight options make LAX the most popular choice for most travelers.
LAX is a hub for which airlines?
Alaska Airlines
American Airlines
Delta
United
Allegiant (focus city)
Southwest (focus city)
How much does it cost to get from LAX to downtown Los Angeles?
Metro: $1.75
Taxi: $46.50 flat rate. Lyft/Uber: $29-$38. Fares will vary by distance, surge pricing, and other factors. (tip not included)
FlyAway Bus: $8-$10
The public transportation system in LA is nothing to get excited about. In order to take the metro, you'll need to hop on the free "G" shuttle bus outside the terminal, which takes you to the Aviation Metrorail station. In total, it takes about 90 minutes and 2 connections to get from the terminals to downtown LA, which is why most people do not choose this option even though it is much cheaper than a taxi or shuttle bus.
The most common choice for travelers these days is to use a rideshare app such as Lyft or Uber. The cost can vary greatly due to surge pricing and it can often be much cheaper to take the free "G" shuttle bus off the airport grounds for a cheaper fare, though this really adds to the time and takes away from the convenience factor. If you want to lower your cost, try using UberPool, which will match you with another rider looking to split the fare. To find your ride in the mess of traffic, follow signs to designated "Ride Service" pick-up areas outside each terminal. If you prefer to take a taxi, there is a flat rate of $46.50 (plus tip) for taxi service to downtown LA.
In my opinion, the best value option is to take a FlyAway Bus. These busses connect LAX with popular locations and transportation hubs around the LA area such as Hollywood, Union Station, and Long Beach via direct bus service. For just $8-$10 each way you can seamlessly get out of the airport and closer to your final destination for a fraction of the cost of a rideshare service or taxi.
Prefer to drive? LAX is located at 1 World Way, Los Angeles, CA 90045.
---
---
Hollywood Burbank Airport (BUR)
With seven different names since 1930, it's fair to say this airport has a little bit of an identity crisis. It's still legally called Bob Hope Airport after the famous actor/comedian. In a rebranding effort, the airport has chosen Hollywood Burbank Airport as its nickname in order to attract more flyers into the Los Angeles area.
If you are planning to stay in Hollywood, this is definitely the most convenient airport in the area. It's just 11 miles from downtown Hollywood and you'll run into much less traffic flying into Burbank than LAX. And there are even some decent public transportation options to/from Hollywood Burbank Airport including a Metrolink train.
The airport mainly serves regional routes along the west coast and to a few airline hub cities east of the Rockies. Southwest has the most destinations from Burbank but other airlines are starting to add service to more hubs so we may see more cross-country routes in the future.
Burbank is a hub for which airlines?
How much does it cost to get from Hollywood Burbank Airport to downtown Los Angeles or Hollywood?
Metrolink: $4.50-$6 to L.A. Union Station. BurbankBus/Metro: $2.75 to Hollywood.
Taxi: $60-$65 to DTLA; $40-$45 to Hollywood. Lyft / Uber: $28-$35 to DTLA; $18-$25 to Hollywood. Fares will vary by distance, surge pricing, and other factors. (tip not included)
Super Shuttle: $24 for shared ride to DTLA; $20 to Hollywood.
Hollywood Burbank Airport is the only airport in the LA area with a train station just a short walk from the terminal. Easily connect between the terminal and the Burbank Airport-South Metrolink Station on the Ventura County line. The airport has even made this handy video to help you find your way. There is also a Burbank Airport-North Station on the Antelope Valley line, which connects to the airport via a free on-demand shuttle service. Both stations connect to L.A. Union Station for $4.50-$6.
For the more cash strapped traveler, the BurbankBus stops at the airport's Regional Intermodal Transportation Center (RITC), and connects with the Metro North Hollywood Station on the red/orange line. Burbank bus costs $1 and a Metro ticket is $1.75, though you may be able to transfer for free.
L.A. residents love rideshare apps, and Lyft and Uber are the most popular and convenient means of getting to/from Burbank Airport. Just follow signs for the designated rideshare pickup areas at the airport. Taxi fares are slightly more expensive than a standard Uber fare, but if there is a surge price in effect, you may find a taxi to be the better choice.
If you want the convenience of a door-to-door shuttle and don't mind potentially having many stops along the way, you can get a shared ride in a Super Shuttle van for about $24 per person.
Feel like driving? Hollywood Burbank Airport is located at 2627 N Hollywood Way, Burbank, CA 91505.
---
---
Long Beach Airport (LGB)
The smallest airport in the region is also the nicest airport I have ever flown from in the U.S. What's not to love about an open-air terminal and being able to walk out on the tarmac from the gate to your plane? It's truly a unique laid-back experience to fly from Long Beach Airport and I would recommend anyone to do so if your final destination is in the Long Beach area and the flight schedule works in your favor.
JetBlue still rules in Long Beach with the most nonstop flight options, but it has started to reduce its presence ever since the city council recently rejected the creation of a Customs and Border Protection station at the airport. The station would have allowed international flights from Long Beach, which is where JetBlue wanted to fly. Ever since, the airport has been forcing JetBlue to give up unused slots to other airlines such as Southwest, which has increased competition on domestic flights.
Long Beach Airport is only accessible by public bus, taxi, or rideshare apps so it is not the most convenient airport to get to if you prefer to take public transportation. However, the small Art Deco terminal makes it a breeze to get in/out of the airport without being stuck in traffic.
Long Beach is a hub for which airlines?
How much does it cost to get from Long Beach Airport to downtown Los Angeles or downtown Long Beach?
Bus/Metro: $3 to DTLA; $1.25 to DTLB.
Taxi: $70-$80 to DTLA; $30-$40 to DTLB. Lyft / Uber: $30-$35 to DTLA; $15-$20 to DTLB. Fares will vary by distance, surge pricing, and other factors. (tip not included)
Prime Time Shuttle: $33 for shared ride to DTLA; $20 to DTLB.
If you want to take the bus, check the limited schedule to ensure you won't be waiting too long. Long Beach Transit buses, which cost just $1.25, connect the airport with locations throughout Long Beach and also to the L.A. Metro Blue line.
The best value mode of transport from Long Beach Airport is to call a Lyft or Uber. Since the airport is so small, you can even save a few bucks by taking a short walk off the airport grounds and try calling Uber once you are on Lakewood Blvd.
For those interested in a door-to-door shuttle, it doesn't appear that Super Shuttle offers shared ride service from Long Beach Airport, but you can book a shared ride van service with Prime Time Shuttle that will seamlessly bring you to your hotel, albeit it might take a while.
Feel like driving? Long Beach Airport is located at 4100 Donald Douglas Dr, Long Beach, CA 90808.
---
---
John Wayne Airport, Orange County (SNA)
As the only commercial airport in Orange County, John Wayne Airport serves as a convenient airport for travelers who live between Los Angeles and San Diego. The airport's name honors the actor who lived in nearby Newport Beach and is also referred to as Santa Ana Airport.
It's the closest airport to Disneyland, and with L.A. traffic, you should consider flying into Santa Ana instead of LAX for a trip to Disney—even if it requires a connection. It's also a great airport to use if you're traveling anywhere along the coast from Long Beach down to San Clemente, but at nearly 40 miles from downtown L.A., I do not recommend using this airport if you're planning to stay in Los Angeles, Santa Monica, or the Hollywood area.
Orange County Airport has the benefit of international service to both Canada and Mexico along with more nonstop domestic flights than any other airport in the region other than LAX. Although Southwest is the largest carrier at SNA, Alaska Airlines is not far behind with a growing number of flights. The downside to John Wayne Airport is that it is not very accessible by public transportation. It's best to get a ride from a friend or rideshare service.
John Wayne, Orange County is a hub for which airlines?
Alaska Airlines (focus city)
Southwest (focus city)
How much does it cost to get from John Wayne Airport to downtown Los Angeles or Disneyland?
Irvine iShuttle/Metrolink: $10 to DTLA.
Taxi: $110-$130 to DTLA; $40-$50 to Disneyland. Lyft / Uber: $60-$70 to DTLA; $30-$35 to Disneyland. Fares will vary by distance, surge pricing, and other factors. (tip not included)
Super Shuttle: $81 shared ride to DTLA. Disneyland Express: $20 to Disneyland.
The Irvine iShuttle operates Monday through Friday during business hours from around 5:30 am until just after 6 pm. It connects the airport with the Tustin Metrolink station where you can take a train to L.A. Union Station or elsewhere in the region. In total, this takes around 1hr 45 min, which can sometimes be the same as commuting in traffic depending on the time of day. The iShuttle is FREE for passengers presenting a valid Metrolink ticket or $1 for travel within the city of Irvine.
Taxi fares from John Wayne Airport to downtown LA are over $100 so it's best to use Lyft or Uber for around $60-$70 if you find yourself in need of a ride between the airport and DTLA. Going to Disney? It's just $30-$35 in an Uber or $40-$50 in a taxi. If you want to get in the Disney mood directly from the airport, board the Disneyland Express bus service for $20 per person.
One very important note if you are taking an Uber to John Wayne Airport is to either pin the airport entrance at the intersection of MacArthur Blvd. and Airport Way or tell your driver to follow the signs on the road for the airport instead of the app. For some reason, if you just type in "John Wayne Airport" into the Uber app, it will route your driver to the back of the airport where the service vehicles enter and could end up taking an extra 15 minutes to get around to the passenger terminal entrance on the other side.
Prefer to drive? John Wayne, Orange County Airport is located at 18601 Airport Way, Santa Ana, CA 92707.
---
---
Ontario International Airport (ONT)
Sometimes confused with the Canadian province of the same name, Ontario International Airport is the second largest airport in the LA area and is also the furthest from downtown LA. What you'll enjoy most about Ontario airport is the relatively low amount of traffic surrounding the airport compared to all other airports in the region.
The airport is primarily a hub for UPS and the majority of flights out of Ontario International Airport are cargo flights. As far as passenger service goes, Ontario serves approximately the same number of passengers per year as Orange County Airport, but with less flights and larger aircraft.
Located in San Bernardino County, the airport has the space to accommodate a Boeing 777 aircraft and surprisingly has nonstop service to Taipei on China Airlines. Guadalajara is currently the only other international destination from Ontario Airport, which mostly serves regional routes to airline hub cities in the west. Some airlines have started to expand service and there are now a few cross-country routes on airline schedules.
Of all the LA area airports, Ontario is the least convenient to get to if you don't have a ride. Keep this in mind when comparing which airport to fly into. Ontario International Airport is primarily used to serve the Inland Empire and should only be used to access Los Angeles or beach cities if you find a really good price and plan to rent a car.
Ontario is a hub for which airlines?
How much does it cost to get from Ontario International Airport to downtown Los Angeles or Riverside?
Bus: $5 to DTLA (over 2 hours); $5 to Riverside (around 1 hour).
Taxi: $120-$140 to DTLA; $65-$75 to Riverside. Lyft / Uber: $55-$60 to DTLA; $30-$35 to Riverside. Fares will vary by distance, surge pricing, and other factors. (tip not included)
Super Shuttle: $71 shared ride to DTLA; $41 to Riverside.
Don't count on being able to take public transportation from Ontario International Airport, but if you happen to land when the schedule works out, OmniTrans bus number 61 stops at the Ontario International Airport. It will bring you either to Pomona in the west, where you can connect with Foothill Transit to downtown LA, or to the Ontario Mills Mall in the east, where you can connect to Riverside Transit bus number 204.
A much more practical way to reach Ontario airport is to take an Uber or Lyft, which range from $55-$60 to DTLA or $30-$35 to Riverside. Taxi fares can be nearly double the price so download a rideshare app to save big when traveling to Ontario International Airport. If you're looking for a shared ride shuttle, prices seem to be more than and Uber or Lyft so only use Super Shuttle if you are not accustomed to using a rideshare service.
Feel like driving? Ontario International Airport has it's own zip code in Ontario, CA 91761.
---
---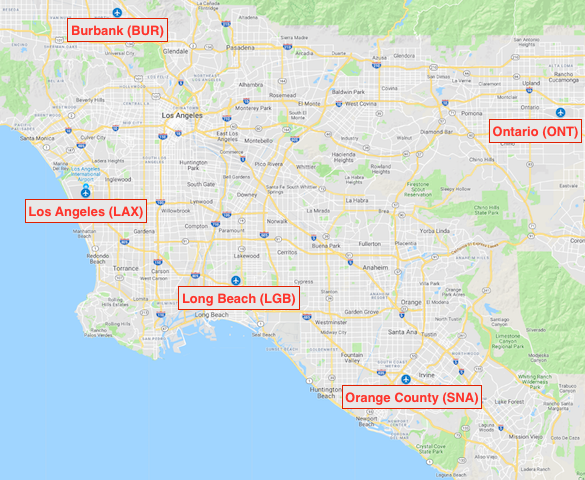 Featured image by Michael Bogner / Shutterstock
All products and services mentioned on Airfarewatchdog are independently selected by our team of expert travelers. If you buy something through our links, we may earn an affiliate commission.