Happy National Dog Day! There's nothing more we like here at Airfarewatchdog than fetching you fantastic flight deals. Following is a list of the top 10 fares that we deal hounds have sniffed-out so far today to get you flying for less.
Today's Top Fare Deals
Fares are subject to change at any time. If you are interested in any of these fares, we recommend you book soon to avoid a missed bargain. All domestic flights work in the reverse direction as well.
Experience the picturesque rice paddies, temples, and laid-back island vibe on beautiful Bali with five-star Singapore Airlines' latest sale to Southeast Asia. Fly from New York-JFK to Denpasar, Bali for $540 roundtrip on select Monday through Thursdays between late January and May 2020. Searching Singapore's site, I found flights leaving JFK on Monday, February 10, and returning from DPS on Monday, February 24, 2019. That will give you ample time to enjoy all that the island has to offer and tone up your tan in the winter months.
See all of our fares to Denpasar (DPS) from all over the U.S. and Canada.
In my opinion, fall is the best time to visit Barcelona, and with a fare deal this low I think you'll agree. Avoid the crowds and save big by waiting until peak summer season is over and fly from Los Angeles to Barcelona for $344 roundtrip on American, United, Finnair, or Swiss. Departures are available on select days starting in late October through May. As an example, I found tickets at this price departing LAX on Wednesday, November 27, and returning from BCN on Thursday, December 4, 2019. Perfect for a European escape over Thanksgiving where you can swap out the turkey for tapas. Fares book into Basic Economy fare buckets, so pack lightly or pay for a checked bag, because Standard Economy is a bit steep at around $510 roundtrip.
See all of our fares to Barcelona (BCN) from all over the U.S. and Canada.
The deals to Hawaii keep rolling in like waves in the Pacific. Swap the Bay Area for beautiful Hanalei Bay with this deal to the 50th state on either Hawaiian or Alaska Airlines. Fly nonstop from Oakland to Lihue, Kauai for $278 roundtrip this winter. Departures are valid on Monday and Thursdays starting on January 21 through March 5. Searching on Alaska, I saw tickets departing OAK on Monday, February 3 and returning from LIH on Monday, February 10, 2019. Other dates during this travel window are widely available.
See all of our fares to Kauai (LIH) from all over the U.S. and Canada.
---
---
Be one of the first to take advantage of United Airlines' new service to Cape Town, South Africa starting this December. While the first few months this route is set to take off is still quite expensive (peak holiday dates). Fares in late February and March are seeing some primo price drops. This nonstop route is dropping down below the $700 mark with flights from Newark available for $693 roundtrip this winter. Departures are valid on select Sundays with returns open on Thursdays, from February 16 through March 26, 2020. I was able to find seats at this price departing EWR on Sunday, March 8, and returning from CPT on Thursday, March 19, 2020. You'll have to be flexible with travel dates, but this is a fantastic fare for nonstop travel on this city-to-city pair.
See all of our fares to Cape Town (CPT) from all over the U.S. and Canada.
Today is the last day of SAS Scandinavian's superb summer sale to destinations all across Northern Europe with a focus on Scandinavian cities. While Oslo (OSL), Copenhagen (CPH), and Stockholm (ARN) are popular picks, smaller cities like Stavanger are seeing great fares too. Start off your Norwegian Fjord cruise by flying from Washington DC-Dulles to Stavanger for $347 roundtrip. Travel is available daily from mid-November through early June 2020. As an example, I found tickets for this fare departing IAD on Monday, May 11, and returning from SVG on Thursday, May 21, 2020. A terrific time to visit when the weather is warming up and the daylight hours are getting longer.
See all of our fares to Stavanger (SVG) from all over the U.S. and Canada.
Fly nonstop from Boston to Charleston for $117 roundtrip and enjoy some southern charm this fall or winter on JetBlue. Seats are available on Monday through Thursday and select Saturdays on most weeks starting in late September through early April. Searching JetBlue's site, I was able to find tickets at this price, leaving BOS on Thursday, September 19, and returning from CHS on Tuesday, September 24, 2019.
See all of our fares to Charleston (CHS) from all over the U.S. and Canada.
Take a look at this sweet deal linking up two of Southwest's top focus airports. Fly nonstop from Chicago-Midway to Dallas-Love Field for $98 roundtrip through December. Depending on which week you plan on traveling, departure days will vary. I was able to find a trip in November departing MDW on Thursday, November 14, and returning from DAL on Monday, November 18, 2019. As always, two bags fly free on Southwest, so pack along everything you think you might need for your time in Big D.
See all of our fares to Dallas (DAL) and (DFW) from all over the U.S. and Canada.
---
---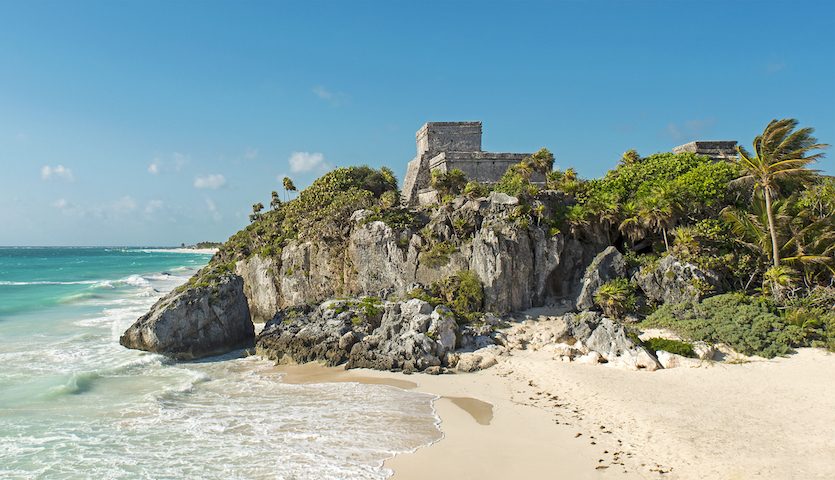 Fly from Houston-IAH to Cancun for $190 roundtrip on United Airlines this fall or winter. Flights at this price open up in mid-September with departures valid through the middle of February next year. Travel days will vary by week, but for the most part, you'll find the largest amount of inventory for midweek travel. Take a shot with this itinerary departing IAH on Wednesday, January 8, and returning from CUN on Wednesday, January 15, 2020. Unfortunately, United's Basic Economy baggage restrictions are still in effect over the border. So make sure you pack all you need in a personal-sized item or pay to check a bag. Upgrades to "Standard Economy" cost double the price!
See all of our fares to Cancun (CUN) from all over the U.S. and Canada.
Here's another marvelous Monday flight deal from our friends at JetBlue. Fly nonstop from Ft. Lauderdale to San Juan, Puerto Rico for only $158 roundtrip. Tickets at this price are available for daily travel starting in mid-September through October then again from mid-January through February 2020. This fare is pretty wide open in those months, so you shouldn't have any trouble finding dates that work with your travel schedule. On JetBlue's website, I found departures available from FLL on Thursday, September 19 and return flights from SJU available on Tuesday, September 24, 2019. Flights in November and December at this price are extremely scarce, but there is some small availability.
See all of our fares to San Juan (SJU) from all over the U.S. and Canada.
Save your jukebox money for some real tunes in Tennessee Home to some of the best live music venues in the country those of you in little Rhody should definitely make the trip to Nashville. Sun Country is here to help to the tune of $77 roundtrip for nonstop flights between Providence and Music City USA. Other itineraries at this price are available on Wednesdays only (other days are just $10 more) between September 11 and December 11. Searching Sun Country, I found seats available departing PVD on Wednesday, November 6, and returning from BNA on Wednesday, November 13, 2019.
See all of our fares to Nashville (BNA) from all over the U.S. and Canada.
---
---
Want more travel deals? Check out all of our fares from your city to see what's available from your neck of the woods. And have a look at our new explore feature to search for flight deals to whatever inspires you.
Only able to travel on weekends? Make sure to check out our Weekender search tool.
And make sure to sign up for fare alerts to be notified when prices drop.
Featured image: Javier Brosch / Shutterstock
All products and services mentioned on Airfarewatchdog are independently selected by our team of expert travelers. If you buy something through our links, we may earn an affiliate commission.