Flight-hunting for your next big trip? There are tons of booking sites, or online travel agencies (OTAs) competing for your attention, but not one of them is perfect. For starters, you won't find the full scope of available flights in the search results of any of these sites. That's because some airlines forbid them from listing their fares, most famously Southwest, though there are others.
And while many of these OTAs power their searches using the same fare data provided by ITA Software (now owned by Google), you can still find substantial discrepancies in results from one to the other. Another curveball? These sites rarely, if ever, take into account special promo-code deals that are sometimes offered exclusively for purchase directly from the airline's site.
So while there's no one-size-fits-all booking site, each has its pros and cons. You may find the set of features offered by one site meets your needs better than another. Here's a rundown of the advantages (and disadvantages) of some of our fave booking sites.
The Best Cheap Airfare Search Sites for 2021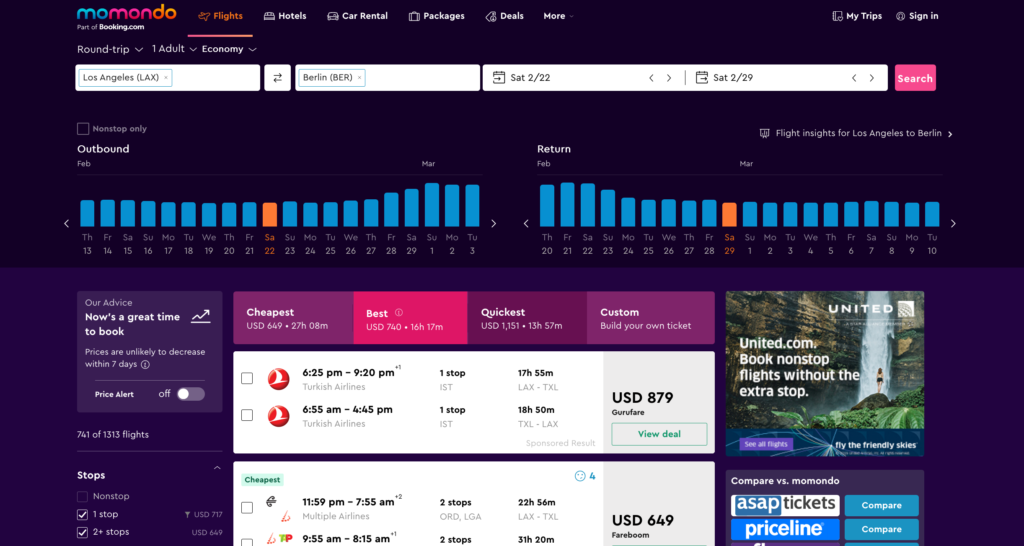 Part of the Kayak network, Danish-based metasearch site Momondo is a great option for international flight searches, thanks to its inclusion of lesser-known regional budget airlines combined with other carriers. Another major distinction, domestic searches include Southwest flights whereas other sites do not. You still have to click through to Southwest.com to see the price of those flights, but just to have it listed as an option is more than what other search sites offer.
Advantages: For a broader view of flight options, Momondo lists unusual routings the other sites tend to miss, including Southwest. Results can be filtered by flights offering wifi, red-eyes, and roundtrip "Mix & Match" itineraries consisting of one-ways on different airlines.
Disadvantages: The interface can feel a bit messy at times, with pop-ups and secondary searches that launch by default on sites like JustFly.com.
---
Related: The Two Cheapest Days of the Week to Fly
---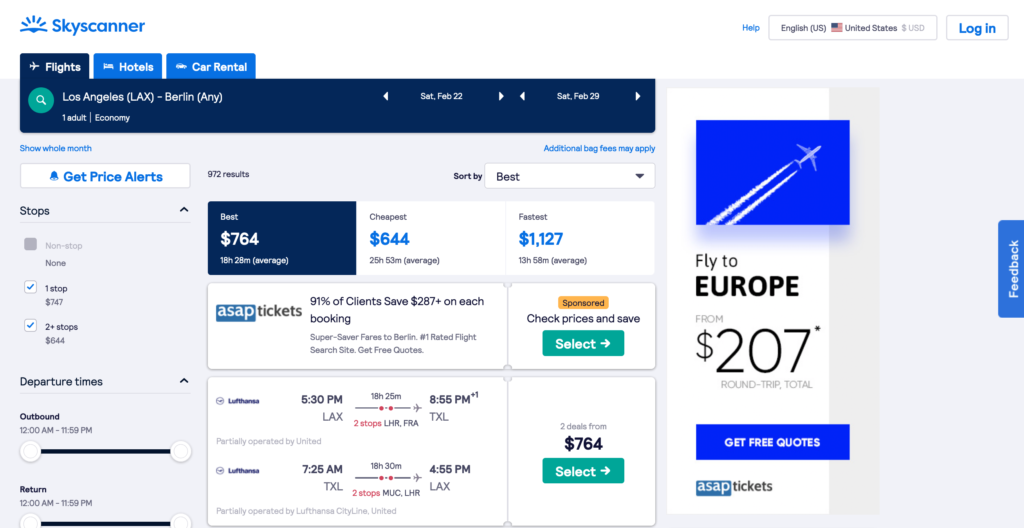 Skyscanner set the standard for metasearch sites by including route combinations from lesser-known carriers and a wide range of filters such as price, flight duration, connections, and, most recently, CO2 emissions. Similar to Google Flights, Skyscanner also allows for broad regions, such as Europe, which is useful when you're open to going wherever is the cheapest.
Advantages: Aside from its incredibly thorough mix of flight options and filters, Skyscanner wins major points for being the first search site to list flights by CO2 emissions.
Disadvantages: Some users may feel uneasy over the fact that Skyscanner may direct you to book on a site you've never heard of, and can sometimes seem shady. Users assign these sites ratings based on price accuracy, refund policy, customer service, ease of booking, and "miscellaneous." That's somewhat reassuring, but then why bother listing a site with so-so ratings?
---
Related: What is Travel Hacking—and Should You Be Doing It?
---
If you've been missing Priceline's long gone Name-Your-Own-Price feature, OTA CheapOair's Super Saver fares are a close substitution. There's no bidding involved, but fares are discounted and the identity of the airline is only revealed after you purchase. Keep in mind that CheapOair tacks on a booking fee of $35.
Advantages: Aside from deals for CheapOair members and discounted Flight+Hotel bundles, CheapOAir has a pretty robust filter system for search results, including an option to "show alternate dates" to make sure you're traveling on the most optimal days.
Disadvantages: Blindly booking without knowing the airline in advance also means you won't know what to expect in ancillary fees for baggage and seat selection. For families or anyone booking a trip with multiple passengers, those fees can really add up.
The granddaddy of flight metasearch sites, Kayak's flexible search remains one of the better tools for finding a deal, even in today's crowded field. Its explore map provides a quick glance at current deals to destinations around the globe, something that Google and Skyscanner also have but that Kayak offered first.
Advantages: Flight results can be trimmed down with the usual filter categories (price, duration, airline, alliance), but Kayak also allows users to filter by aircraft type.
Disadvantages: Kayak's fares aren't always up-to-date, and it's not unusual to click on a great fare only to find that it expired hours ago.
---
Related: The 8 Cheapest Places to Fly This Fall
---
If you're at the beginning stages of planning your next big vacation, with just a vague idea of where you'd like to travel and flexibility with travel dates, Travelzoo may be more your speed. Here, trips are searched broadly by weekend, season, or month. Results may not always be the cheapest available option but will turn up some great values, including discounted business class tickets.
Advantages: Travelzoo is excellent for churning out flight deals for trips you might not have known you wanted to take.
Disadvantages: Its loosey-goosey approach may not work for those who are searching for deals over a specific set of dates.
The Cadillac of flight metasearch, Google Flights offers a ton of easy-to-use features to narrow down the best available flight. Aside from basic filters like price, connections, and departure times, you can weed out flights based on carry-on bag allowances, alliances, and connecting airports. Google Flights will also show you if it's cheaper to book segments of a trip separately or together if you so choose. View fares in calendar view, by grid or graph, and track fares by setting up alerts.
Advantages: It's intuitive and easy to use. Unlike some search sites that bombard users with ads and pop-ups, Google Flights is clean and uncluttered, showing only what you need to find your flight. Indecisive travelers can map out the lowest available fares from your city to destinations across the globe, based on your trip parameters. You can also search for fares to general regions, like Europe, to see what city might be the best deal.
Disadvantages: Some may be overwhelmed by all the potential ways to view what is essentially the same information. Google Flights isn't always as thorough in its results as you might expect it to be, often listing flight info without prices for some airlines, though that is usually due to issues with the airline.
Stay on top of breaking sales, fare drops, and more! Follow us on Twitter at @Airfarewatchdog. And make sure to sign up for FREE airfare alerts to be notified when prices drop.
Maria Savenko / Shutterstock
All products and services mentioned on Airfarewatchdog are independently selected by our team of expert travelers. If you buy something through our links, we may earn an affiliate commission.