There are plenty of sales to help plan your winter or spring break escape today. We're seeing some great deals to Mexico, Europe, exotic islands, and several domestic connections that cost less than a tank of gas. Have a look at our top 10 airfare picks we've found so far today.
Today's Top 10 Airfare Deals
Fares are subject to change at any time. If you are interested in any of these fares, we recommend you book soon to avoid a missed bargain. All domestic flights work in the reverse direction as well.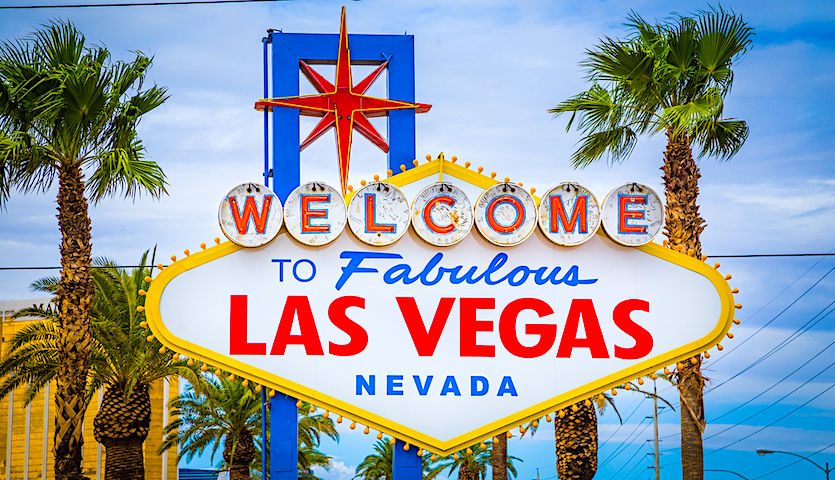 Here's a fare that's worth rolling the dice on this fall, fly nonstop on United and go from the Windy City to one full of Sin for $97 roundtrip. This price can be found on scattered Monday, Tuesday, Wednesday, and Saturdays between January 8 and February 11, 2020. I was able to hit the jackpot with seats departing ORD on Tuesday, January 28, with a return from LAS on Saturday, February 1, 2020. Only one small personal item is included. Pay $30 each way for a carry-on or checked bag. But those fees won't matter after you come up all aces.
› See all of our fares to Las Vegas (LAS) from all over the U.S. and Canada.
Soak up some sun south of the border and visit San Jose del Cabo, Mexico, for $235 roundtrip on Delta Air Lines. This deal is fairly spread out with fares available starting as soon as next week through early April. Departures days will vary by week, and peak holiday periods blacked out. On Delta's site, I found tickets departing RDU on Monday, March 2, and returning from SJD on Thursday, March 12, 2020. Just in time for Spring Break.
› See all of our fares to Los Cabos (SJD) from all over the U.S. and Canada.
You can't get more exotic than the shipping off to the Seychelles. Spend your 2020 vacation time in an overwater bungalow at this amazing archipelago off Africa. Usually flights to Mahe tally over $1,200, but Kenya Airways is offering a phenomenal price drop with flights from New York-JFK for only $700 roundtrip. Departures at this price are valid for Wednesday, Friday, and Sunday, starting as soon as this Wednesday through the end of May. As an example, I found seats departing JFK on Wednesday, December 4, and returning from SEZ on Friday, December 13, 2019. Perfect for an adventurous last-minute escape!
› See all of our fares to Seychelles (SEZ) from all over the U.S. and Canada.
Icelandair has been busy breaking out sales on a weekly basis. Here's a fare from its cozy winter flight deals to Europe sale that the carrier is offering, fly from Seattle to Copenhagen for $400 roundtrip this winter. Depart on Sunday through Wednesdays with returns valid on Monday through Thursday between January 13 and March 31, 2020. As an example, I was able to find tickets at this price, leaving SEA on Monday, March 2, and returning from CPH on Wednesday, March 11, 2020. To see all of our other current deals across the pond, have a look at our dedicated European Flight Deals Page for a full rundown.
› See all of our fares to Copenhagen (CPH) from all over the U.S. and Canada.
---
---
Why drive when you can fly? Especially with a nonstop fare this low between Baltimore and Charlotte for $60 roundtrip. Available for travel starting in early December, seats are open on select dates through March 5, 2020, with only peak holiday dates blacked out. One-way flights are available for just $31! Searching the American website, I saw seats departing BWI on Tuesday, January 21, and coming back from CLT on Saturday, January 25, 2020. Availability is pretty easy to find if you're flexible with travel dates.
› See all of our fares to Charlotte (CLT) from all over the U.S. and Canada.
China Airlines is celebrating its 50th year serving San Francisco, so what better time than to offer 50% off its fares. But, there is a string attached. To take advantage of this BOGO offer, you'll need to find a travel partner, as only the second ticket will receive the half-off discount. As an example, I found nonstop flights between San Francisco to Taipei, Taiwan, for $565 roundtrip, per person. Compare that with the going rate of $694, and you'll see why this is a bargain when traveling with a companion. Head on over to China Airlines site to book this BOGO deal where I found seats at the listed price departing SFO on Tuesday, March 10, and returning from TPE on Wednesday, March 25, 2020, at the discounted price.
› See all of our fares to Taipei (TPE) from all over the U.S. and Canada.
Many of those great fares we mentioned on Friday to Canada have still stuck around over the weekend. If you want to head up north for some snow this winter, flights from Dallas-DFW to Toronto are available for $181 roundtrip on select dates. Fares at this price are hard to pin down, but you'll have the most luck with Tuesday and Wednesday departures in January and February, but other travel dates are available for about $13 more. Searching AA.com, I found an itinerary departing DFW on Wednesday, February 12, with a return leg from YYZ on Tuesday, February 18, 2020.
› See all of our fares to Toronto (YYZ) from all over the U.S. and Canada.
---
---
When that blustery winter wind swirls around Back Bay, you'll be happy you booked this discount deal to sunny San Juan. Fly nonstop from Boston to Puerto Rico for $218 roundtrip on JetBlue this winter. Flights at this price can be booked on select days starting in mid-January through the middle of March 2020. Searching JetBlue, I found tickets leaving BOS on Monday, February 3, with a return leg from SJU departing on Thursday, February 13, 2020, at this price. One-way fares are available for $109. A handful of dates are available in the spring, but your best bet is for January and February flights.
› See all of our fares to San Juan (SJU) from all over the U.S. and Canada.
Travel between two cities that know how to have a good time and keep the party going at all hours. Hop on a Southwest jet and fly nonstop from Los Angeles to Austin for $106 roundtrip this winter. Travel at this price on Tuesdays and Wednesdays between early December and March 4, 2020. Searching Southwest's site, I found a trip in October at this price departing LAX on Tuesday, January 21, and returning from AUS on Tuesday, January 28, 2020. As always, two bags fly free on Southwest, so pack along all the outfits you might need for a night out on Sixth Street.
› See all of our fares to Austin (AUS) from all over the U.S. and Canada.
Bright lights in the big city are calling your name with this beautiful price drop to the Big Apple. Take your pick of Delta, JetBlue, or American to get you to Gotham with flights from Phoenix for only $197 roundtrip. Departures are valid daily from early December through March 4, 2020, with Xmas and NYE dates blacked out. For more travel flexibility, purchase two one way fares amongst separate carriers and create a custom itinerary that better suits your schedule. Using American as an example, I found tickets at the listed price departing PHX on Friday, February 14, with a return leg from JFK on Monday, February 17, 2020.
› See all of our fares to New York (JFK) from all over the U.S. and Canada.
---
---
Want more travel deals? Check out all of our fares from your city to see what's available from your neck of the woods. And have a look at our new explore feature to search for flight deals to whatever inspires you.
Only able to travel on weekends? Make sure to check out our Weekender search tool.
Stay on top of breaking sales, fare drops, and more! Follow us on Twitter at @Airfarewatchdog. And make sure to sign up for FREE airfare alerts to be notified when prices drop.
Featured image: lassedesignen / Shutterstock
All products and services mentioned on Airfarewatchdog are independently selected by our team of expert travelers. If you buy something through our links, we may earn an affiliate commission.