Thanksgiving marks the beginning of the holiday travel season in the U.S. and finding a cheap flight for this peak season can be a bit trickier than other times of the year. We've rounded up a few examples of great Thanksgiving travel deals and offer some tips to find a good price for your holiday.
How to Find Cheap Thanksgiving Flight Deals
Prices for Thanksgiving flights are usually cheaper if you book well in advance, but there are still relative deals out there for procrastinators looking for a last-minute deal. Follow these steps to make sure you get the best deal possible for your turkey-filled vacation.
Don't Expect Off-Season Prices
Adjusting your expectations on prices is the first thing you should do when looking for a deal. The lowest available fares on a particular route are generally not available for peak holiday travel. If you see a price alert for a super cheap flight during off-peak shoulder season travel dates, don't expect to find this price on dates surrounding Thanksgiving or other holidays.
Be Flexible with Dates and Destination
If there were a University of Travel, Cheap Flights 101 would focus on flexible travel dates. This rule is hard to follow for those looking to travel for a specific holiday, but it can still save hundreds of dollars if you're able to adjust your travel dates by just a day or 2. Being flexible with the time of your flight is also a great way to find a better price. If you're only able to fly when everyone wants to fly (after work on Wednesday, and back on Sunday), you'll likely pay through the roof for your flight.
And being flexible with your destination can help even more when traveling around holidays. If you just want to go somewhere on your days off, you can surely find a good deal on a flight. Using an explore feature on certain search engines like Google Flights or Kayak can help you find travel deals for specific dates, but flexible destinations.
---
---
Celebrate Thanksgiving Abroad
Domestic flights for Thanksgiving travel are often more expensive than international flights. And since Thanksgiving falls in the fall shoulder season for cheap flights around the world, you can often score great deals on international flights and save some of your vacation days. While the best deals are usually easier to find further in advance, we still see some great last-minute deals to Europe, Asia, or throughout the Americas. Consider trading turkey for pasta, sushi, or tacos, and you could be on your way to a bucket list destination abroad for your holiday.
Fly on Thanksgiving Day for a Cheap Flight
If you aren't able to take off earlier in the week but still want to visit family or travel for the holiday, flying on Thanksgiving Day will often be the cheapest option. Although airlines often reduce flight schedules, you may be able to find some early morning departures that can still get you to the dinner table in time for turkey. Late-night flights on Thanksgiving can also be cheap, so if you'd like to start your long weekend after enjoying all the fixings at home, look for flights departing Thanksgiving night. This can also work for a cheap return flight if you're just looking to visit family for Thanksgiving morning, but need to be back home before the weekend.
Fly Back Friday, Saturday, or Stay a While
Most people would like to return from a Thanksgiving weekend trip on the Sunday following Thanksgiving Day. Unfortunately, this is one of the busiest travel days of the year and prices reflect the increased demand. Consider flying back on the Friday or Saturday after Thanksgiving for a cheap flight. It will also be slightly cheaper to fly back on the Monday after Thanksgiving and prices tend to keep falling the later in the week you're able to return. Mid-week travel on Tuesdays and Wednesdays often have the lowest prices so if you can extend your trip and return mid-week, you'll have an easier time finding a good deal.
Don't Discount Budget Carriers and Pack Light
We know some travelers try to avoid budget carriers at all costs, but by completely omitting these carriers from your flight searches, you may miss out on big savings — especially for last-minute bookings for holiday travel. Although most sales have blackout dates around holidays, Frontier usually has a specific promo code sale for off-peak travel dates surrounding certain holidays. These sales usually pop-up closer to the holiday when prices have already started to creep up, but the discount may bring the price back down to a reasonable cost.
Other budget carriers like Spirit or Allegiant often offer considerable savings compared to costly flights on legacy or more traditional carriers. Just make sure to pack light when flying these airlines or the bag fees may cancel any savings in airfare. If you're just traveling to enjoy Thanksgiving dinner with family or friends, flying with just a small backpack should be a possibility.
---
---
Use Alternate Airports Combined with Land Transport
Another common method to find a cheap flight is to look for flights to/from nearby airports. While parking fees may add to the cost of flying from a different airport, there are often land transportation options that can bring you directly from your city to the nearby airport. At the very least, you should be able to find a bus or train to the city center where you can take local transportation or rideshare service to the airport. Flight prices tend to vary more than usual for peak travel dates surrounding holidays, so you may find it worthwhile to fly from an alternate airport for Thanksgiving even though it may not be worth it at other times of the year.
Cheap Flights for Thanksgiving
Note: These fares have been updated as of 5:00 pm, ET, November 18, 2019, and are subject to change at any time. These fares are meant to show a few examples of last-minute Thanksgiving deals that can be found and may sell out quickly.
Spend Thanksgiving in Greece! Fly from Newark to Athens for $438 roundtrip on United/Swiss. I found flights departing Newark EWR on Thursday, November 28, returning from Athens ATH on Tuesday, December 3. You may also depart on Friday or return later in the week if you prefer.
See all of our current deals to Athens (ATH) from all over the U.S. and Canada
Fly nonstop from Miami to New York for $281 roundtrip on Delta. I found this price available departing Miami MIA on Thursday, November 28, returning from New York LGA on Monday, December 2. Not a bad price that will still get you to NYC to spend Thanksgiving Day and get started on your holiday shopping on Black Friday.
See all of our current deals to New York-LaGuardia (LGA), New York-Kennedy (JFK), and Newark (EWR) from all over the U.S. and Canada
---
---
Want to warm up for the holiday? Nonstop flights from Boston to West Palm Beach are available for $124 roundtrip on Spirit. I found this price departing Boston BOS on Wednesday, November 27, returning from West Palm Beach PBI on Wednesday, December 4. And you can return later in the week for the same price. Spirit only includes a small personal item for this price, but you'll still save a ton compared to what other airlines are charging even if you do add extra bags.
See all of our current deals to West Palm Beach (PBI), Ft. Lauderdale (FLL), and Miami (MIA) from all over the U.S. and Canada
Combine two separate one-way flights on different carriers to save money on a roundtrip flight. Fly nonstop from Minneapolis to Chicago for $163 roundtrip on American/United. I found a late evening flight on American, departing Minneapolis MSP on Wednesday, November 27, returning on United from Chicago ORD on Sunday, December 1. You'll find slightly lower fares on other dates surrounding Thanksgiving.
See all of our current deals to Chicago-O'Hare (ORD) and Chicago-Midway (MDW) from all over the U.S. and Canada
---
---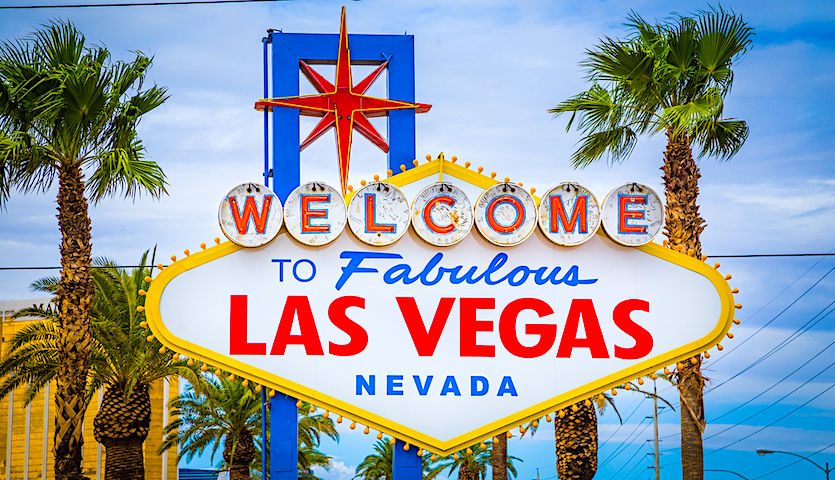 After you've filled your belly, fly out to Vegas for a shot at the jackpot during your long weekend. Fly nonstop from Atlanta to Las Vegas for $111 roundtrip over Thanksgiving weekend. To get this price, just enter promo code GOBBLE when booking on flyfrontier.com. Depart Atlanta ATL late at night on Thanksgiving Day, Thursday, November 28, and return from Las Vegas LAS in the wee hours of the morning on Tuesday, December 3. Remember to pack light or pay for bags in advance, because Frontier only includes a small personal item for this price.
See all of our current deals to Las Vegas (LAS) from all over the U.S. and Canada
---
---
Stay on top of breaking sales, fare drops, and more! Follow us on Twitter @Airfarewatchdog. And make sure to sign up for FREE alerts to be notified when prices drop.
Featured image: Bruce Alan Bennett / Shutterstock
All products and services mentioned on Airfarewatchdog are independently selected by our team of expert travelers. If you buy something through our links, we may earn an affiliate commission.