Travel plans have been put on hold due to the novel coronavirus (COVID-19) and many airlines have canceled flights in response to travel restrictions and drastically decreased demand. Consumers looking for refunds have been blindsided by new policies and airlines offering anything but money back in the form of an actual cash refund.
Note: This story was originally published on March 30, 2020, and has been updated to include the latest enforcement notice from the U.S. Department of Transportation, published April 3, 2020.
Tips for Canceling Flights Affected by Coronavirus
We asked our followers on Twitter about their experiences getting refunds due to canceled flights and received several responses — some with no issues, but most experienced difficulties and inadequate responses from airlines and online travel agencies. Taking in these accounts and regulations put forth from the U.S. Department of Transportation (DOT), here are some tips to get a refund for flight cancellations.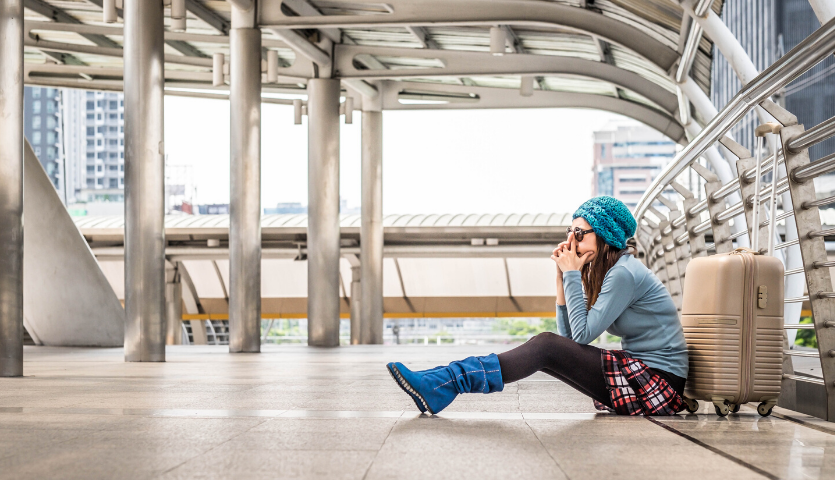 Wait Until the Airline Cancels Your Flight
I can't stress this enough, but if your goal is to get a cash refund and money back in your pocket, do not preemptively cancel your flight. Instead, wait to see if the airline actually cancels the flight and then request a refund. U.S. DOT regulations state that "If your flight is cancelled and you choose to cancel your trip as a result, you are entitled to a refund for the unused transportation — even for non-refundable tickets."
While this seems to be cut and dry on the DOT Flight Delays & Cancellations page, it is a little less clear on the DOT Refunds page, where it states:
Am I Entitled to a Refund?

When the airline is at fault:

Passengers are often entitled to a refund of the ticket price and associated fees when the airline is at fault.

Cancelled Flight– A passenger is entitled to a refund if the airline cancelled a flight, regardless of the reason, and the passenger chooses not to be rebooked on a new flight on that airline.

Schedule Change/Significant Delay- A passenger is entitled to a refund if the airline made a significant schedule change and/or significantly delays a flight and the passenger chooses not to travel.

…

When the airline is not at fault:

Passengers are entitled to refunds only in limited circumstances if the airline is not at fault.

Fully refundable tickets- Passengers who purchase fully refundable tickets are generally entitled to a refund when they do not use the purchased ticket to complete their travel.

Non-refundable tickets- Passengers who purchase non-refundable tickets are generally not entitled to a refund unless the airline makes a promise to provide a refund.

…

Note: While airlines are not required to issue a refund for non-refundable tickets, they are free to do so or they may issue a credit or travel voucher good for future use on the airline. Airlines must also comply with the promises they make, and in some instances, they may be willing to offer passengers accommodations or other benefits that they are not required to provide. Contact the airline directly to inquire about additional accommodations or benefits.
This leaves a little grey area between whether or not the airline is at fault or not, but in the end, most airlines have provisions in their contract of carriage stating that passengers will be refunded for flights canceled by the airline and these DOT regulations do state that "Airlines must also comply with the promises they make."
Update: On April 3, 2020, the DOT issued an enforcement notice clarifying air carrier refund requirements, given the impact of COVID-19. This briefing states that "The obligation of airlines to provide refunds, including the ticket price and any optional fee charged for services a passenger is unable to use, does not cease when flight disruptions are outside of the carrier's control (e.g., a result of government restrictions)."
If this makes your head spin, just remember to forgo accepting a travel voucher or credit with the airline if all you want is to get your money back — even if the airline is telling you a refund isn't possible. Once you've accepted a change in itinerary or travel credit, the airline has no obligation to refund any money.
Likewise, if your flight has yet to be canceled, the airline may be allowing you to voluntarily change your travel plans without any fees, but if the flight is still on the airline's schedule to operate, it is not required to provide an actual cash refund. Airlines have canceled most international flights for the near future, but several domestic flights remain scheduled and may not be canceled until a few days before departure. If you have a flight for a later date that you no longer want to take, wait and see if it gets canceled before asking for a refund.
Don't Jump at Offers for Extra Credit
Some airlines are offering bonus travel credits for passengers electing to voluntarily change flights or accept a travel credit for future use. For instance, Frontier had been offering a $50 voucher in addition to the travel credit and there have been reports of American Airlines offering a 20% bonus on travel credits for passengers accepting this option in lieu of a refund.
Of course, a bonus offer sounds great on the surface, but it is clearly a strategy by the airlines to keep your money and avoid shelling out refunds due to inevitable flight cancellations. Remember to ask about all of the details pertaining to any bonus credits, such as how long it will be valid and if there are any blackout dates or other restrictions.
If you are almost certain you will travel with the airline again before any travel credit will expire, then it may be worthwhile to accept the bonus, but as we are still uncertain how long travel restrictions will be in place, I would be very careful accepting these offers — especially if your original ticket was expensive. You may never get to use the travel credit and be out a lot of money.
Look Online First but Call When Necessary
Unless you are scheduled to fly within 72 hours, the airlines are requesting that you refrain from calling in order to better serve passengers with immediate travel needs. Therefore, it is best to go through online channels first. Some airlines make it easy to cancel, change, and refund online (I see you, Southwest), while others, particularly the legacy carriers, are making passengers go through hoops to get refunds.
Be extremely careful to read any fine print when trying to refund tickets online. Many airlines only allow you to accept a travel credit when processing cancellations online and may require you to actually communicate with a reservations agent in order to process a refund. This communication does not necessarily need to be over the telephone so if your travel date is more than 3 days away, try to contact an agent via online chats, Twitter, or through email.
Here are some direct links for refund requests and to contact major airlines in North America.
Since wait times could be hours when calling, you may find it difficult to actually talk to an agent. In this case, I would recommend at least sending an email or direct message to the correct department stating that you would like a refund for a canceled flight or that you wish to cancel your reservation. Include your confirmation number and itinerary including flight numbers. Some airlines are no longer requiring you to do this in advance of the travel date due to extremely high call volumes, but it is always a good idea to have your intentions laid out with a date and timestamp for future reference.
If you booked with an online travel agency (OTA) such as Expedia or Priceline, you will need to contact the OTA directly in order to process any refunds or flight changes. Refund policies vary for flights booked with OTAs so make sure to read your agency's policy for details.
Some Airlines Are Declining to Refund
Airlines are in a cash crunch. Demand for flying has dropped to nearly zero and airlines are doing everything possible to hold on to as much money as they can. As we've heard from several of our Twitter followers, this means airline agents are simply stating that they are only offering travel credits and refunds are not available — even when DOT regulations and contracts of carriage say otherwise.
My best advice if this happens to you is to be prepared and simply read them what is written on the DOT website and/or in the airline's contract of carriage and stand firm that you only want a refund. Since this situation is unprecedented, some airlines have revised their contracts of carriage to be less consumer-friendly, such as United. In some cases, United is now only offering a flight credit valid through a certain date and if a traveler wants a refund instead, they'll have to wait until that expiration date to request a refund.
The Canadian government has even revised its Air Passenger Protection Regulations to allow airlines to issue travel credits for cancellations outside the airline's control. Air Canada now states on its refund options page that "Cancellations resulting from the COVID-19 crisis are considered outside our control." In Europe, Regulation 261 provides some of the best consumer protections in the world for air travel, but the coronavirus falls under an "extraordinary circumstance" and even though you are still entitled to a refund for cancellations, you will not receive additional compensation. On March 18, 2020, The European Commission released a notice on passenger rights in the context of the developing COVID-19 situation.
There are reports of airlines calling flight cancellations due to the pandemic a "Force Majeure" and, therefore, they are not offering refunds at this time. American Airlines even replied via tweet that "Unless your fare is refundable, we aren't offering refunds. We are letting you rebook for future travel." However, we've also heard reports of these same airlines refunding passengers in full so there clearly is some wiggle room and airlines appear to be considering refunds on a case by case basis.
On April 3, 2020, the DOT clarified that both U.S. and foreign airlines are obligated to provide a prompt refund for flights to, from, or within the U.S. when the carrier cancels the flight and the passenger chooses not to accept an alternative offer by the carrier. If this applies to you and an airline forced you into accepting a voucher earlier, I advise you to try calling again and requesting a refund as the DOT is allowing the airlines to become compliant before pursuing enforcement action.
Be Patient and Avoid Settling for Travel Credit
As I've said before, once you accept a travel credit in lieu of a refund, you have entered a new agreement with the airline and will not be eligible for any mandated refunds. Although, the recent enforcement notice states that airlines are now required to contact anyone who was issued a voucher for flights canceled by the airline and notify passengers that they have the option for a refund. For inexpensive tickets, the battle may not be worth your time. But if the airline is holding a large sum of your money hostage, you may want to stick to your guns and do everything possible to get your money back.
Filing a complaint with the DOT is a start. If an airline is breaking the law or its contract of carriage, the DOT should know about it. Keep in mind that you may not see any results from these formal complaints for quite some time, but the process may help facilitate getting a refund in the future. The large number of complaints recently has already led to the DOT issuing an enforcement notice to the airlines.
If you have requested a refund with an airline, be prepared for processing times to be longer than usual. Some of our staff and followers have requested refunds with Norwegian and haven't heard any updates in weeks. Other airlines, such as Virgin Atlantic, have stated that refunds could take up to 90 days to process. It's best to be patient with this process as airlines are overwhelmed at the moment and even if they aren't offering refunds right now, it's possible they will in the future once things settle down and operations start to pick up again — especially if they are required to do so by law.
Dispute the Charge with Your Credit Card
As a last resort, you can dispute the charge with your credit card. At the end of the day, if an airline cancels your flight, they are not providing the service you paid for. Common logic dictates that if you don't get what you pay for, you should get your money back. Credit card companies that facilitate these transactions are sometimes easier to deal with in these instances.
Credit card companies will usually ask that you try to refund through the airline first. If that Is deemed impossible, ask your credit card to do a chargeback and credit your account for the amount charged by the airline. This will require a lot of paperwork and can take some time, but could be your best course of action. Certain cards may be more willing to do this than others so it all depends on which card you hold as to how likely this will work.
Always Be Kind and Courteous
The most important rule is to treat others as you would like to be treated. We are all experiencing a lot of stress these days, but the reservations agent on the other end of the line is not at fault here so it's best not to take out your frustrations on them. Sometimes kindness can be the ticket to an agent actually going out of their way to help you out and process a refund — even if they are being instructed to only offer travel credits. The Golden Rule can go a long way, so when you're pleading your case for a refund, remember, be nice.
---
Stay on top of breaking sales, fare drops, and more! Follow us on Twitter @Airfarewatchdog. And make sure to sign up for FREE airfare alerts to be notified when prices drop.
Featured image: Eviart / Shutterstock
All products and services mentioned on Airfarewatchdog are independently selected by our team of expert travelers. If you buy something through our links, we may earn an affiliate commission.