Have you ever had to stop somewhere on the way to your final destination and wish you could stay a few days to experience the city instead of just switching planes? We've mentioned some airlines that offer free stopovers, but there are also some airlines that offer this option for a small fee.
Note: Due to the coronavirus (COVID-19) pandemic, many of these airlines have temporarily suspended service and it may not currently be possible to take advantage of stopover programs. We expect these airlines to continue these programs once the pandemic is under control and flight schedules return to normal.
Visit 2 Cities on One Trip and Save with These Airlines
Whether you want to check out Hawaii on your way to the South Pacific or stop in Japan for a few days before visiting Southeast Asia, there are airlines that allow you to add a stopover in the connecting airport city for a fraction of what it would cost to buy two separate tickets.
Aer Lingus
Flying to mainland Europe with Aer Lingus is a great choice since it still only sells its "Smart" economy fare on routes beyond Ireland when traveling from North America. And you can often book a multi-day stop in Ireland for similar fares than a simple roundtrip flight to the destination on continental Europe or the U.K. Sometimes the fare will actually be cheaper since Ireland has significantly cheaper departure taxes for transatlantic flights than other countries like the U.K. To book a stopover trip, try a multi-city search, but you may have to call Aer Lingus to create the custom itinerary. A fresh pint of Guinness straight from the source is a great way to start or end a European vacation.
Air Canada
Fly from the U.S. to Europe or elsewhere around the world via Canada and enjoy a stopover with our friendly neighbors to the north for a small fee when flying Air Canada. To help entice travelers, Air Canada offers free or reduced rate hotels in its international gateway hubs Toronto (YYZ), Montreal (YUL), and Vancouver (YVR). This offer is more tailored for itineraries, which require an overnight stay due to flight schedules, but if you conduct a multi-city search and add in a multi-day stop, you'll find some itineraries are only around $100 more than a simple roundtrip flight to your final destination.
Air New Zealand
Build your own custom itinerary and easily visit both New Zealand and Australia with Air New Zealand's excellent stopover policy. When searching for a multi-city trip on Air New Zealand, you can add a stop in New Zealand on your way to or from Australia for a small fee — and during certain sales, it is sometimes free. Air New Zealand offers two different ways to search for this type of trip on its website. You can choose to use the guided search or simply build your own itinerary. And it also works if you'd like to stop in the Cook Islands on the way to/from New Zealand.
ANA
All Nippon Airways often has some of the best deals on flights to Southeast Asia. And the best part is that you can add a stop in Tokyo for around $100 more than a roundtrip flight to the final destination. This is often even cheaper than buying a simple roundtrip ticket on the nonstop flight between North America and Tokyo — so the savings really add up even if Tokyo is your main destination.
Avianca
When flying to South America, it may be worth it to book a flight with Avianca if you'd like to visit Colombia on the way to another destination in South America. Avianca has a special Bogota Stopover program that creates custom itineraries for 8-hour, 12-hour, and 24-hour connections in Bogota and if you'd like to stay longer, you'll find that by booking a multi-city trip, fares are sometimes only around $100 more when you add an extended stop in Bogota (BOG) to/from cities like Lima (LIM), Santiago (SCL), and Rio de Janeiro (GIG).
Azores Airlines
Discover the Portuguese islands in the middle of the Atlantic on your way to/from Portugal, Gran Canaria, Cape Verde, or Frankfurt. Not only is it a great way to break up a long flight, it's also an inexpensive way to experience two different vacations on the same trip. Although you can often find lower fares on other airlines from the few cities Azores Airlines operates between North America and Europe, if you'd like to see what the island life is like in the Azores, its stopover program is the best way to get more bang for your buck.
Copa Airlines
Copa Airlines has a relatively new stopover program, which allows travelers to add a stop in Panama (PTY) when traveling on any of its routes between North America, Central America, South America, and the Caribbean. Geographically, Panama is one of the best connecting points for flights between North America and South America and Copa Airlines often has some of the best deals between these two continents. You'll have to pay approximately $50 in taxes if you wish to add a multi-day stop in Panama, but it's a great opportunity to check out one the 7 wonders of the modern world, the Panama Canal. Plus, Copa Airlines still includes one free checked bag in all fares.
Fiji Airways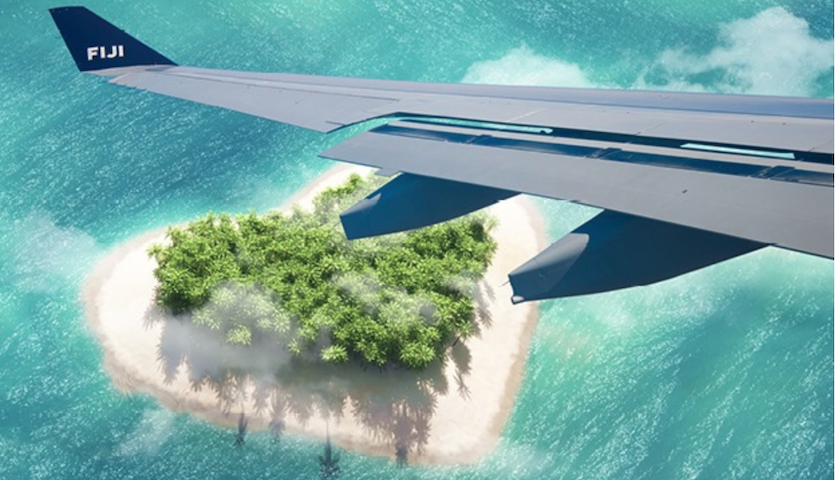 If you're flying to Australia, New Zealand, or another island in Oceania, Fiji Airways gives you the opportunity to stop in Fiji on the way. For stays longer than 72 hours, you'll need to pay the Fiji departure tax. If you search for a multi-city trip and add a multi-day stop in Fiji to/from Australia or New Zealand, you'll find that the lower restricted fares are only around $100 more than a simple roundtrip flight. You'll be glad you broke up your flight to snooze in a hammock while taking in some of the best sunsets in the world. Try the local kava and you'll be in full relaxation mode. Bula!
Hawaiian Airlines
Flying Hawaiian Airlines to places like Australia, New Zealand, or Oceania is a great way to break up the ultra-long-haul flight to the South Pacific. Plus, you can add a stop in Hawaii for around $100 more. Depending on flight schedules, I would recommend taking a stopover on your return flight to have a few days of relaxation on the beaches of Hawaii after an adventurous trip down under.
Iberia
Iberia recently added its own stopover program called "Hola Madrid", which claims you can spend 1 to 6 nights in Madrid at no additional cost. I had trouble finding itineraries that didn't jump in price by quite a bit after adding the stop, but if you find a cheap flight on Iberia to destinations other than Madrid, try searching with its stopover tool to see if you can add a few nights in Madrid for a similar price.
Qantas
Qantas has a unique option for travelers looking to explore Australia. If you're the type of traveler who likes to have it all planned ahead of time, you can book flights with a multi-city tool and adding stops in its major international gateways should produce similar prices than simple roundtrip flights to destinations beyond Sydney (SYD), Brisbane (BNE), or Melbourne (MEL). But if you just know you want to check out Australia for a while and want some flexibility when planning the domestic flights within Australia, check out the Qantas Explorer, which can be added to eligible international bookings. It allows you to add domestic flights for a small fee depending on the zone and there is no charge for date changes.
Stay on top of breaking sales, fare drops, and more! Follow us on Twitter at @Airfarewatchdog. And make sure to sign up for FREE airfare alerts to be notified when prices drop.
Featured image: Shane Myers Photography / Shutterstock
All products and services mentioned on Airfarewatchdog are independently selected by our team of expert travelers. If you buy something through our links, we may earn an affiliate commission.