United Airlines has launched a sale discounting travel to many of its hub and focus cities; among them Chicago, Denver, Houston, Newark, San Francisco, and Washington, D.C., among others. Travel is valid most days of the week from late January through May, but must be booked by January 30.
Travel Availability
Travel Period: January 28-May 20.
Travel Days of the Week: Mondays, Tuesdays, Wednesdays, Thursdays, and Saturdays.
Minimum Stay: 3 to 7 days may be required, applies by route.
Sale Period
Tickets at the listed sale prices must be purchased at least 14 days in advance and by January 30.
Sample Fares
San Francisco to Burbank $117 roundtrip
Boston to Washington, D.C.-IAD $118 roundtrip
Houston to Corpus Christi $118 roundtrip
Washington, D.C.,-IAD to Providence $118 roundtrip
Chicago to Dayton $156 roundtrip
Denver to Omaha $180 roundtrip
Chicago to Grand Rapids $186 roundtrip
Denver to Burbank $188 roundtrip
Denver to Tulsa $200 roundtrip
Houston to Louisville $210 roundtrip
Denver to Austin $220 roundtrip
Los Angeles to Austin $256 roundtrip
Check flights from your city to see today's current finds.
Baggage
Basic Economy fares on United only include one small personal item. A full-size carry-on bag is not allowed with United's Basic Economy and must be checked. United's regular Economy fares do include a full-size carry-on bag plus a small personal item. The first checked bag costs $30 each way for either type of fare.
Seat Assignments
Seats will be assigned at random upon check-in for Basic Economy fares. You may pay a fee to choose a specific seat. Standard Economy fares include advanced seat assignments.
Alternate Fares
The routes listed are standard Economy. Other routes can be upgraded from Basic Economy to standard Economy for an extra charge. This charge can vary from just $35 each way to around $200 roundtrip, so it may or may not be worth it. This type of fare will include a full-size carry-on bag, advanced seat selection, and allow for ticket changes/upgrades. A checked bag is the same $30 fee each way.
---
---
Example Booking
As an example, I found a flight departing San Francisco SFO on March 17 returning from Burbank BUR on March 21 for $117 roundtrip.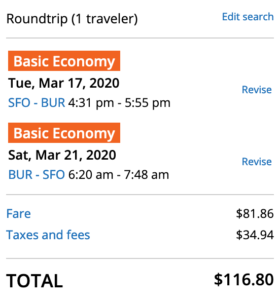 Stay on top of breaking sales, fare drops, and more! Follow us on Twitter at @Airfarewatchdog. And make sure to sign up for FREE airfare alerts to be notified when prices drop.
Featured image: NextNewMedia / Shutterstock
All products and services mentioned on Airfarewatchdog are independently selected by our team of expert travelers. If you buy something through our links, we may earn an affiliate commission.