If you typically think of summer as the time for a relaxing vacation, maybe it's time to think again. Winter has its leisurely pleasures, too—and if you're tired of shoveling snow or white-knuckling it on icy roads, you probably need to take a break and enjoy the season with a stay at a relaxing winter resort.
America's Most Relaxing Winter Resorts
Here are 14 relaxing winter resorts where you can enjoy the sight of falling snow from the comfort of a hot tub. Best of all, you won't have to shovel.
Editor's Note: Some resorts may have restrictions/limited amenities due to the pandemic. Be sure to check with the property directly before booking.
Just 90 miles from New York City, Mohonk Mountain House will make you feel like you've gone to Europe, sans passport. An award-winning spa, Victorian-inspired décor, ice skating, eucalyptus steam room, and daily meditations deliver the perfect escape from reality. The resort's daily activity schedule is filled with unique events like a House History Tour, Hot Chocolate Tasting, and Wine Glass Painting. You can even rent a cottage or the Grove Lodge—a private lodge with six guest rooms and a Great Hall.
Other amenities: Four restaurants, outdoor adventures, stables, indoor pool, and a fitness center.
Nestled in Oregon's wine region, the Allison Inn and Spa offers fresh farm-to-table dining, whirlpool spas, and a full-service spa menu. You can choose to partake in the inn's Celebrity Wine-tender Tasting on Thursday evenings or tour a few of the 200 wineries nearby. Winter is the perfect time to cozy up with a glass of wine.
Other amenities: Nail salon, indoor swimming pool, gas fireplaces in every room, complimentary welcome snack basket, and live music on Friday and Saturday evenings.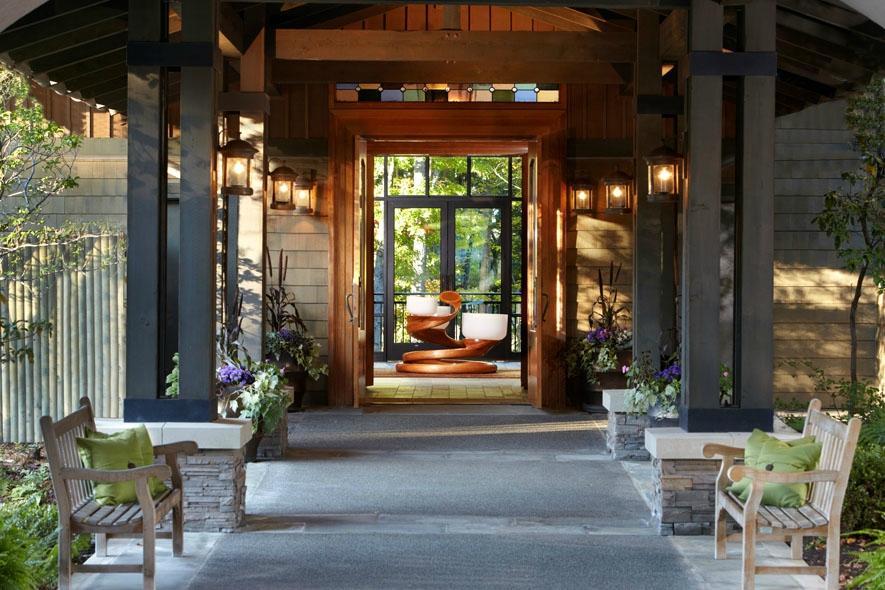 Hydro. Massage. Waterfalls. If that isn't enough to make you want to escape to the Lodge at Woodloch, I don't know what is. Located in the scenic Poconos region, this resort includes three gourmet meals per day during your stay. You can de-stress by tapping into your creative side with the lodge's creative arts activities, which include coloring, mosaics, silk scarf painting, and culinary classes, along with more typical resort activities.
Other amenities: Speakers and workshops; experiences for the mind, body, and soul; spa; indoor whirlpool and steam room.
An eco-friendly green hotel, Hotel Terra is the perfect luxurious break near the Teton mountains. Even its spa is green: It uses 100 percent eco-friendly products and a natural substitute for chlorine in the hot tubs. Every room has heated bathroom floors; several have inlaid gas fireplaces, ensuring warmth and comfort no matter where you are. If you're a fan of nature, check out the hotel's Winter Wildlife Expeditions, where you can tour the surrounding area with a biologist and view the local wildlife, or take a sleigh ride for a lazier outdoor tour.
Other amenities: Two restaurants and a lounge, rooftop spa, infinity pool, steam showers, and on-site ski rentals.
You can relax like a champion at the Whiteface Lodge in the Adirondacks. You may be inspired to pick up a new sport while you tour the nearby Olympic facilities, including the rink where the "Miracle on Ice" took place in 1980. Back at the lodge, you can settle down to watch a movie (there are three movies shown daily) in the 54 seat movie theatre with complimentary popcorn, or take a leisurely swim in the heated indoor pool.
Other amenities: Spa, hot tubs, fitness center, yoga, restaurant, hiking, skiing, and snowshoeing.
If it's luxury you're looking for, look no further than the Ritz-Carlton in Tahoe. Every room has a gas fireplace, and many have floor-to-ceiling windows offering spectacular views of the nearby peaks. Many of the rooms also boast oversized deep-soaking tubs, offering you the perfect way to lay back and soothe those tired muscles. The spa features locally inspired therapies and a dry-heat lodge to detox in. There are also a variety of restaurants to choose from, ranging from formal to casual dining.
Other amenities: concierge service, slope-side spa, Ritz Kids program, and sunrise yoga.
For a true tranquil getaway, you should to head to the Sundara Inn. Sundara (which means "beautiful" in Sanskrit) says its mission is "wellness in all we do." The inn is electronics-free, so you won't have any temptation to check your work email or check in with the kids (Sundara is adult only) as you set out for your day of relaxation. Before any spa treatment, the inn requests that guests partake in a Purifying Bath Ritual, which will "cleanse the skin and clear the mind." You can also use the indoor spa bathhouse at any time while a guest at the inn. There is a meditation garden and Meditation Trail on the grounds, as well as yoga, biking, and hiking for the perfect wellness getaway.
Other amenities: Heated infinity pool, turndown service, local products served in restaurant, tranquil spaces, and a spa.
To fully immerse yourself in a mindful break, a stay at Canyon Ranch may be just what you need. Located in Massachusetts' scenic Berkshires mountains, the inn offers an all-inclusive stay that provides meals and snacks, more than 35 daily activities (including yoga, mindfulness practices, and fitness), plus a daily credit for a spa service of your choice: massage, facial, whatever you please.
Other amenities: complimentary airport/train transportation, unlimited access to spa and fitness facilities.
If you'd like to find out what skijoring is, Triple Creek Ranch is the resort for you. Skijoring (which is when a person on skis is pulled by a horseback rider) is included in your all-inclusive rate—as are artist workshops, all meals and beverages, ranch activities, and more. You will have your very own cabin with a fireplace and an essential oil diffuser, and, for an extra fee, you can get a massage from a certified massage therapist in the comfort of your cabin.
Other amenities: all-inclusive, fitness center, skiing, horseback riding, hiking, and gourmet dining.
What says winter more than an ice bar and lounge? The Sagamore Resort uses 18,000 pounds of ice to create its ice bar, which is open during select weekends in the winter (weather permitting). With Lake George creating an exquisite landscape, the Victorian-era main hotel is sure to inspire you to live a more leisurely lifestyle during your stay. The spa at The Sagamore features body treatments, massage, skincare, and a salon.
Other amenities: Eight restaurants, skiing, tubing, condominiums, indoor pool, and Jacuzzi.
Relaxation and "family vacation" typically do not go hand in hand, but The Little Nell in Aspen breaks the mold. It's pet friendly and it offers babysitting, making it perfect for a quiet getaway with the entire family. Book a babysitter for the kids and head over to the spa for a five-star facial. Roam the art gallery and inspire your creative side. End the evening with a stargazing tour, and get lost while you stare into the night sky.
Other amenities: restaurants and bar, complimentary snow bikes, skiing and winter adventures, spa.
Located at the base of the Eagle Bahn Gondola, The Arrabelle may be a perfect spot to put your feet up and sit by the fire. Its spa is 10,000 square feet with panoramic views of the Rocky Mountains. After getting an Alpine Glow body treatment, you can take a yoga class before sinking into a hot tub. If being separated from your pet gives you anxiety, fear not, as the resort is pet-friendly.
Other amenities: Fitness Center, rooftop pool and hot tub, fireplaces in every room, heated bathroom floors, ski rentals, and gourmet dining.
Located in Unaweep Canyon, Gateway Canyons provides the perfect remote and relaxing winter getaway. Book one of the Signature Rooms, where you will have a private outdoor hot tub and a gas fireplace for some cozy solitude. Although you may not want to leave your room, you can head to the spa for a treatment, or book a local wine tour.
Other amenities: Six dining options, hiking, yoga, air tours, and pool.
Just two miles from Mt. Mansfield, Topnotch offers stunning mountain views, an indoor pool and hot tub, a spa offering more than 100 services, a fire pit, and yoga classes.
Other amenities: Two on-site restaurants, indoor tennis courts, ski/snow shoe rentals, fitness room, fitness classes, salon, and pet-friendly accommodations.
All products and services mentioned on Airfarewatchdog are independently selected by our team of expert travelers. If you buy something through our links, we may earn an affiliate commission.