Wish you'd had the chance to travel more this year? If you're willing to break with tradition, December holidays are the ideal time to squeeze in another trip. True, holiday fares can be insanely inflated, though for the price your paying to fly home to the fam, you could easily spend the same (or often less) and explore a new city, domestic or international.
As is the case with any trip, the more flexible you are with travel dates, the better your odds of finding a low fare. Instead of departing Friday, December 22, and returning Monday, January 1, search off-peak dates. Below are a few sample trips we've spotted recently.
Miami
Holiday fares to South Florida aren't too too crazy, at least when departing from East Coast hubs. Seen below, we found seats going for $296 in Economy from New York to Miami on Delta. Packing light? You may be able to get away with flying Basic Economy for $267 and save yourself a few bucks.
If Miami fares aren't looking so great from your departure city, consider flying into nearby Fort Lauderdale or even West Palm Beach.
Bergen
Not so long ago, a holiday flight from the US to Bergen would have cost an arm and a leg. And forget about flying nonstop! Of course, that's all changed since Norwegian entered the picture. The budget carrier added nonstop service from both Providence and Newburgh/Stewart earlier this year, with round-trip fares often below $300, and hardly much more for off-peak holiday trips.
We found seats for $328 round-trip from Newburgh when booking separate tickets via Google Flights.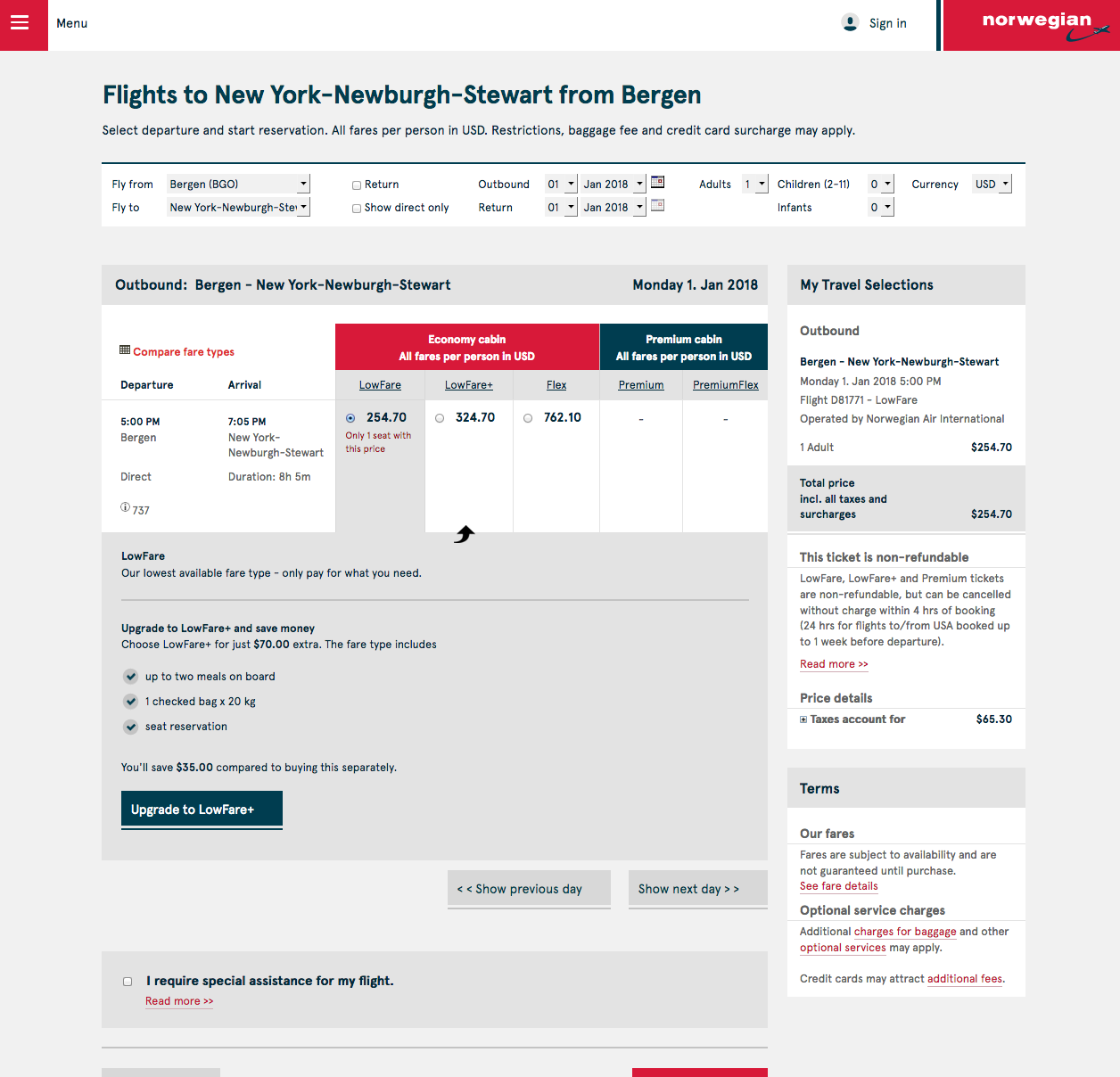 London
Jacked up holiday fares coupled with the UK's already high airport taxes might deter you from even considering London at all. But it's certainly possible to string together a reasonably priced ticket for off-peak holiday travel, particularly on one of the many budget carriers servicing Gatwick or Stansted. We recently found seats for $677 nonstop from Miami to London on American (booked via Finnair). Meanwhile from the West Coast, Los Angeles to London is going for $709 nonstop. Not bad at all for holiday travel!
New Orleans
Fares to New Orleans tend to be fairly inexpensive from most corners of the US. We recently found seats from Philly for $118 nonstop on Frontier for off-peak travel, and from Chicago for $385 nonstop for peak travel (that's Economy, not Basic Economy, by the way!), departing December 24, returning January 1.
Seattle
Ok, so maybe not such a cheap option for East Coast departures, but it is possible to find a bargain to Seattle from the Southwestern US. We found seats going for $259 round-trip on Alaska. Depart LAX bright and early on Christmas morning, return from Seattle on Tuesday, January 2. Nonstop, even!
San Diego
Fares to San Diego have dropped quite a bit as of late, with holiday dates going for under $300. A rarity!
We found seats from Dallas for $285 round-trip, nonstop, on American, departing SAN on Tuesday, December 19, returning from SAN on Tuesday, December 26. Even for East Coast departures are doable. As of this afternoon, JetBlue had seats from New York for $281 nonstop, departing December 18, returning December 25 (in the morning, but an excellent holiday fare all the same!).
Savannah
Thanks to JetBlue for some much needed competition in the post AirTran days, Savannah has again become an affordable destination, and that includes the holidays.
We found seats from Detroit for $315 round-trip, nonstop, departing December 18, returning December 25. And from Newark, United is offering $305 round-trip, nonstop, departing December 18, returning December 26. These fares are in Economy, with slightly lower fares available in Basic Economy, though with carry-on restrictions.
Mexico
Short travel time, warm weather, and relatively low fares make Mexico an attractive option for the holidays. Depending, of course, on your departure city, you'll probably have more luck snagging an off-peak fare to popular resort destinations such as Cancun and Cabo.
Searching Alaska Air, we found seats from Los Angeles to Cabo for $231 nonstop. And not quite as low but still somewhat reasonable for holiday travel, we spotted Chicago to Cancun for $384 nonstop on American, departing ORD on Monday, December 18, returning from CUN on Tuesday, December 26.
Las Vegas
A quick trip to Las Vegas for Christmas? Not as expensive as you might think! We easily found seats from Chicago for $199 round-trip, departing ORD on December 23, returning from LAS late on Christmas day. Even from New York, we were able to find a $308 nonstop, departing JFK on Monday, December 18, returning from LAS on Christmas morning.
Denver
if Denver is on your short list of holiday destinations, you may have luck with Frontier Airlines, as we did below. From Los Angeles, we were able to find seats for $164 round-trip, nonstop, departing LAX on December 23, returning from DEN on the afternoon of December 25. Even on United, our search turned up a $281 economy fare, nonstop, from Chicago. Lower still by $50 if Basic Economy suits you.
All products and services mentioned on Airfarewatchdog are independently selected by our team of expert travelers. If you buy something through our links, we may earn an affiliate commission.