For years now, profitable foreign-based airlines have offered newer, more luxurious aircraft than their poorer U.S.-based competitors. British Airways has had sophisticated entertainment systems in all classes and lie flat seats in their premium cabins for years now. But if you flew on American, Delta, or United, it was probably in an aging 757 or 767, maybe with one of those 1980's-era T.V. monitors hanging from the ceiling. Lie flat seats? Good luck.
But finally, the remaining legacy U.S. airlines are stepping up their game to compete with foreign-based carriers. And it can't come too soon. We have suffered long enough with those embarrassing, elderly planes. Now that they've merged and capacity-cut they're buying new planes, refurbishing older models from top to bottom, and adding amenities that used to be found only on British Airways, Singapore, Cathay Pacific, Lufthansa and other aviation icons.
While we wait for the 787's to fly again, you can experience this new world of air travel on American Airlines' new Boeing 777-300ER, and on some of United's refurbished Boeing 757-200's flying between New York and Los Angeles or San Francisco, which have been retrofitted with fully lie-flat beds in the front cabin.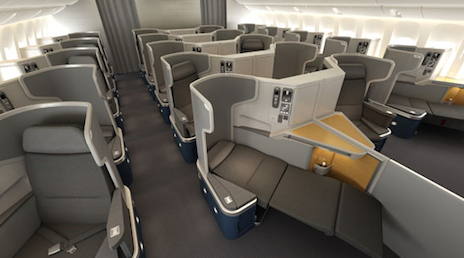 Delta, too, has reconfigured many of its trans-continental 767's and 757's with lie-flat business class seats and in-seat video in economy class, but again, these aren't new planes, just new interiors.
Oddly, it's beleaguered American Airlines, still in bankruptcy court, that is actually adding completely new planes. American is also taking delivery of new Airbus A321 models (first deliveries in November) to replace those aging 767's on transcontinental routes, with fully lie-flat seats in business and first, part of 460 new planes the airline has on order. Economy class cabins will have in-seat touch-screen monitors.
But the really cool ride is on the 777-300ER, which currently flies or will fly soon from New York and Dallas to London, New York and Dallas to Sao Paulo, and Los Angeles to London. And lest you think that the goodies are confined to business and first class only, a ride on AA's 777-300ER (for extended range) will dispel that quickly. All cabins have new in flight entertainment and WiFi. But not just any entertainment or WiFi. The programming is amazingly extensive and hip (I spent my entire flight flipping channels and watching new releases and Hollywood classics), and the WiFi works domestically as well as internationally.
I flew in business class from New York to London and back, a route that I normally fly on British Airways. How did AA compare to its OneWorld alliance partner?
Food: better on AA. This was a surprise. In addition to meals served at seat, the crew lays out a buffet of delightful edibles (sandwiches, canapés, puddings, fruit) in the walk-up kitchen in business class.
Cabin décor: AA. Not that BA is shabby, far from it, but the lighting, colors, fabrics and other design elements are just a bit more pleasing on AA. The cabin has touches of wood that makes it look a bit like a cabin cruiser, plus red and blue mood lighting.
Cabin service: about the same.
Business class seats: a toss up. AA wins for no climbing over your neighbor (full aisle access for all seats), but the AA seats are not quite as cushy as BA's recently upgraded Club World seats (IMHO).
Premium class lounges: hands down, BA.
In flight entertainment: AA blows all other airlines away (I know, sounds hard to believe), even before you add the Bose noise-cancelling headphones and the international Internet. It's not just the quantity of selections, it's the quality. Lots of clever, unexpected choices in both audio and video.
But watch out, U.S. airlines. Don't think for a minute that the foreign competition will be resting on its laurels. We hear that Singapore Airlines has some new cabin enhancements up its corporate sleeve, and we doubt that British Airways will stand still either when it introduces Airbus A380 and Boeing 787 service later this year.
All products and services mentioned on Airfarewatchdog are independently selected by our team of expert travelers. If you buy something through our links, we may earn an affiliate commission.