Fly nonstop from Houston-Hobby to Atlanta for $98 roundtrip on Southwest Airlines through October. For those in the ATL looking to two-step over to Texas, this fare also works in reverse at the same price.
Travel Availability
Travel is available on select Monday, Tuesday, Wednesday, and Sundays from mid-May through the end of October. June and summer travel dates are available but selling out quickly, most inventory can be found for September onward.
Searching Southwest, I found this price available departing Houston-Hobby HOU on Sunday, August 25, returning from Atlanta ATL on Wednesday, August 28, 2019.
Baggage
This fare includes a carry-on bag, a personal item, and two free checked bags.
Seat Assignments
Southwest has an open seating policy, which means there are no assigned seats and you'll get to choose your seat during boarding. The order of boarding is determined by the time of check-in so check-in exactly 24 hours before departure or pay for priority boarding for a better choice of seat.
Alternate Fares
From Houston-Hobby, Delta is matching this fare at the $97 roundtrip fare as well.
From Houston-IAH, United and Delta Air Lines are matching this $97 roundtrip fare on select dates. If you are having trouble finding travel days that work for your schedule, try booking two separate one-way tickets amongst the airlines and create a custom itinerary. Keep in mind that this will be a basic economy fare on United and incur its stringent onboard baggage policy.
---
---
See our fare details for booking info.
Looking for a place to stay in Atlanta? Here's what's available for the above dates on Hotelwatchdog.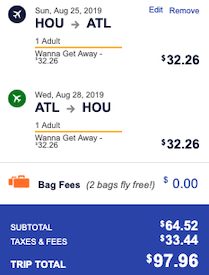 Featured image by f11photo / shutterstock.com
All products and services mentioned on Airfarewatchdog are independently selected by our team of expert travelers. If you buy something through our links, we may earn an affiliate commission.