Hot! Hot! Hot! airfare deals can be found on Hotwire.com if you have some flexibility with your travel dates. Get going and jump right in to find your next trip!
Here's our friendly step-by-step guide. Now bare with us as some of the Hotwire's screenshots are in grey or have a light grey background which makes it a tad difficult to read. As long as you have our guide handy, you'll be fine searching Hotwire's website.
Steps:
1. Go to Hotwire.com to start your airfare search.
2. At the website, you'll see the Hotwire Hot Rate Locator. Click on the Flights button. Next, click on the words Flexible Date Search.
3. You'll be directed to a new screen called Welcome to Flexible Date Search with three steps to complete.
Location: Enter in your departure and return cities by typing in the name of the cities or you may use each city's three letter airport code.
Travel Dates: Select the length of your trip within the drop-down box. Next, choose the travel dates in which you would like to travel between. A calendar will appear for you to select the start and end dates for your search. You may search up to 30 days from your selected start date.
Passengers: Select the number of passengers for this trip.
On you have done those three steps, Click on Find a Flight to begin your search.
4. Results: Hotwire will provide you with airfares according to your selected trip length within the start/end date for your search. For example, if you selected a 2-4 day tip within the month of July, Hotwire will show you 3 calendar boxes of possible airfares: one box for a 2-night trip, one for a 3-night trip, and one for a 4-night trip.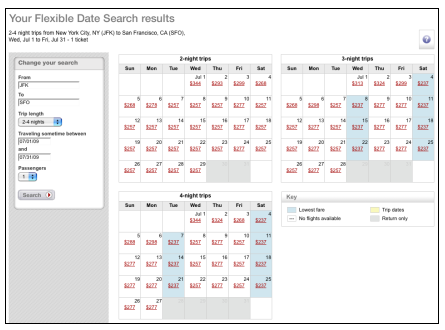 5. Review the calendars to see which airfare price and/or travel dates will meet your needs. To select your airfare, go to your preferred start date and click on the airfare price. A small pop-up box will appear providing you with the cost of the airfare and the start/end dates for the trip. Click on the red button Choose This Fare to continue.
6. Next, review the proposed flights listing different airlines, departure/arrival times and airfare prices.
On the left side of the screen, Hotwire provides you with a few features to change your airfare search. One option is to filter out airfares with non-stop, 1 stop, or 2 plus stops on flights. To eliminate a choice, remove the check mark in the appropriate box and Hotwire will automatically update the listed airfares. Another option is to change one or both of your airports. Hotwire will list nearby airports that could have cheaper airfares with your selected travel dates. To select a different airport, click on the listed airfare and Hotwire will update your search.
7. After reviewing the list of possible flights, click on the Continue button for your chosen airfare.
8. Hotwire will provide a summary of your itinerary listing the travel dates, times, airports, and the cost of the flight including taxes and fees. To reserve the intinerary, click on the red Continue button.
9. Next, Hotwire allows customers to sign-in to their account or to continue on without signing into an account. The final steps to book a ticket include entering in Traveler Information, selecting any Additional Features, typing in your Payment Information, and a final Review of the trip before purchasing.
All products and services mentioned on Airfarewatchdog are independently selected by our team of expert travelers. If you buy something through our links, we may earn an affiliate commission.