Countless visitors to Malibu never quite get it right. As happens too often in Southern California, much of the sightseeing happens through the car window, which is to say that very little has actually been seen. This one-of-a-kind small town on the edge of Los Angeles doesn't begin to work its magic until you get away from your vehicle and begin exploring on foot – preferably far, far away from paved roads and crowded parking lots (beach or otherwise). Seriously – if you're not totally in love with Malibu, you just don't know it well enough. Yet. Let's fix that, shall we?
1. There's an App for That

After years of litigation, Malibu's coastline is entirely accessible to the public. You just need to follow some simple guidelines. The game-changing Our Malibu Beaches app is your best friend as you explore the endless supply of oceanfront found here. Directions to secret stairways, tips on which locked gates aren't actually locked at all, specifics on how much of the sand belongs to the homeowner in front of a property (it varies) and how to handle the occasional security guard, if one ever resorts to intimidation – it's all on the app.
2. Using Your Newfound Insider Knowledge, Head Straight for the Best of the Secret Beaches
Okay, it's clearly a matter of opinion, but Lechuza Beach – near the Ventura County line, far from Malibu's busy center – is obviously the best of all of the beaches, no contest. There's nothing quite like the first time you find the secret steps off of Broad Beach Road, bringing you down to the oft-empty bit of paradise located at the end of exclusive East Sea Level Drive. Turn right and walk up the shoreline, scrambling over rocks where necessary – you'll soon arrive at one of Malibu's most iconic strips of sand: El Matador.
3. Instagram the Hell out of El Matador
Managed by the state of California – which charges a parking fee ($8), one that you've successfully avoided – it doesn't get much more photogenic than the sharp cliffs and iconic sea stacks of this smallish beach where crowds are kept down with limited parking and a location that's just a tiny bit farther from the city than many visitors are willing to go. There's always a photo shoot of some sort going on, usually involving impossibly skinny models, flitting up and down the steep staircase to street level (incredible views await those who make the climb). If the beach is too busy for your tastes and if tide conditions allow, keep walking up towards two more state beaches of note – the relatively sleepy La Piedra and El Pescador.
4. Explore the Bluffs at Point Dume
With just a handful of parking spaces at this magical spot buried deep in one of Malibu's most desirable areas, many would-be visitors never even stop at Point Dume. Huge mistake. There's room for everyone's car (summer weekends excepted, when it gets mobbed) just a short climb down the bluffs, at Westward Beach. The nicest of Malibu's busy drive-up playas, you've got plenty of meter parking (credit cards accepted) within steps of the access point. Scramble up top, walk the entire loop and don't miss the high point for incredible 360-degree views and plenty of wildlife watching, both marine and otherwise.
5. Sneak into Pirate's Cove
Did you see that small, secluded cove far below you as you walked along Point Dume? That's Pirate's Cove and you can go there, if you like. Climb back down to sea level, scramble up and over the rocks (with the utmost of care, naturally) and you're there. You'll notice upon arrival that the cove isn't actually that small – there's room for everyone to feel as if they're on their own private (okay, semi-private) beach.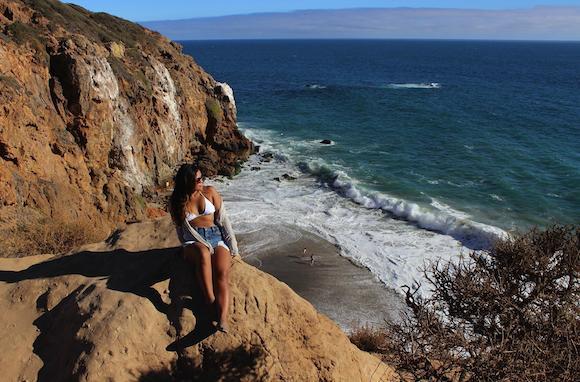 6. Take a Serious Walk to See Some Serious Surfing at Little Dume
Most people assume you need a key to get down to this remote beach located just below some of Malibu's most expensive real estate. No, all you need is a few hours of low tide and an appetite for a short hike. The stairs down to the beach from the opposite side of Point Dume will bring you to the surf – once down, turn left and walk on the sand until you get to what seems like a rather tight corner. It is, but it's passable – go on, get your feet wet. Not too much farther on, you'll come to Little Dume. Try to contain your excitement – the surfers and homeowners can be more than a touch territorial.


7. If You Keep Walking, You Can Crash Malibu's Most Infamous Beach Bar
Located on a relatively wide, sandy beach, Paradise Cove is legendary for its weekend party atmosphere. It's essentially a beach club, but anyone can join for the day, as long as they have an appetite for crowds and the Cove's $40 parking fee. You, however, are walking right up, at no charge (they used to try and charge walk-ins a hefty $20 – the courts put a stop to that in 2014). And, no worries – if you're tired or one too many drinks in, this is still civilization, people – you'll generally have no problem summoning an UberX back to your car ($10).
8. Time to Eat – for a Lot Less Than You'd Think
Want beachfront dining? No reservations or platinum card needed, just follow the smart people to Malibu Seafood, a tiny market with a takeout counter and a lot of outdoor seating, just across the highway from the surf. Legendary among day-tripping locals, their fish and fries are close to perfection and you can get as many pieces as you want. (Three is probably the limit for even the hungriest human - $14.95 gets you that and a pile of perfectly cooked steak fries.) Healthy eaters can get pretty much anything grilled, as long as its fish. Need meat? Head into what passes for Malibu's downtown, largely found in a collection of swank strip malls along Cross Creek Road. Amid the Rodeo Drive-worthy boutiques and see-and-be-seen restaurants hides the laidback Malibu Kitchen, a New York-style deli and bakery known for messy sandwiches that are actually damn good. Get the meatloaf ($8.95).


9. Crash One of Malibu's Most Incredible Houses
A short walk from the Country Mart (make sure you're parked legally!) and set directly on one of California's most popular surfing beaches, the historic Adamson House is now nearly 100 years old and remains one of Malibu's finest homes, a Spanish Colonial Revival-style gem complete with gardens and a pool. All, of course, with spectacular ocean views. Built by members of the Rindge family, who once owned much of what we now know as Malibu, today it's empty. Just sitting there. Walk on in and enjoy. Seriously, though – the property is now part of the Malibu Lagoon State Park, but hardly anyone ever goes, mostly because you need to park elsewhere and walk in – a deal-breaker for many visitors. They have no idea what they're missing – where else are you going to find a relaxing garden or shaded patch of grass to call your very own, just a stone's throw from some of the West Coast's best waves? Such places exist, but here in Malibu, you'll almost certainly be trespassing. Oh, and, speaking of breaking the rules – no jumping in the pool. There are cops that patrol the property from time to time and they are…not fun. (Long story.)
10. Have a Drink on – or near – the Pier
By now, it's probably close to happy hour – walk the short distance from the Adamson House either back to the Country Mart or, better still, on to the Malibu Pier, which you will see right in front of you. After years of trying to get it right, the restaurants on the pier seem to be thriving – once again, however, no need to overspend. Across from the pier is Casa Escobar, a long-time local favorite that's now located inside the old Malibu Inn. Margarita Mondays ($4), Taco Tuesdays ($1.50) and a traditional happy hour (e.g. $3.50 beers) Monday through Friday until 7pm make this a great place to end your Malibu adventure. Best of all, when it's time to call it a day (or a night), you're now just fifteen minutes or so from the real world. Traffic permitting, of course.
All products and services mentioned on Airfarewatchdog are independently selected by our team of expert travelers. If you buy something through our links, we may earn an affiliate commission.