As a temporary resident of Arizona, I had grand plans for hiking the famed Bright Angel Trail and camping at the bottom of the Grand Canyon this summer. I submitted my request for a backcountry camping permit in February, pleased as punch that I was planning a trip five months in advance. Then came the rejection letter from the National Park Service.
The Grand Canyon's Natural Wonders
Requests for camping permits, I was told, should be made at the earliest possible date (January 1 for May, February 1 for June, etc.). And reservations for Phantom Ranch and South Rim mule trips open up 15 months prior to your desired arrival date. My hopes were raised again when I read "cancellations, plus a small number of Corridor campsites are held in reserve for last-minute walk-in visitors." They were quickly dashed again two sentences later: "In busy months, it often takes two to three days for a walk-in visitor to obtain a one- to two-night trip within the canyon."
I turned my sights to Havasu Falls, a 22-mile round-trip hike, but its lodging and hiking permits were booked until November. The West Rim Skywalk was an option, albeit an expensive one at more than $56 per person—$82 when including the actual Skywalk. Even the Grand Canyon Lodge on the less-visited North Rim fills up early; I watched my room reservation get snagged by someone who could clearly type their credit card number faster than me.
It all got me thinking: Why fight the crowds during peak season at the Grand Canyon when there are a slew of other must-see natural wonders within driving distance of either rim? So here are 10 eye-popping places you can visit instead of (or in addition to) the Grand Canyon.
Antelope Canyon, Arizona

Like the Grand Canyon, a visit to Antelope Canyon takes some prior planning. Unlike the Grand Canyon, Antelope Canyon tours don't require a 13-month advance registration. The area, known for its striking slot canyons, is on Navajo land. Guides are required for both the upper and lower Antelope Canyon area. Several vendors offer hour-long tours to stay within the maximum two-hour visit limit enforced by the reservation.
Bonus: Iconic Horseshoe Bend, the aptly named curve in the Colorado River, is a mere 10 miles, or 20-minute drive, west of Antelope Canyon on U.S. Route 89. A 1.5-mile round-trip path leads to the canyon rim overlook.
Distance: 129 miles from North Rim
Approximate drive time: 2 hours, 55 minutes
---
---
Glen Canyon National Recreation Area, Arizona/Utah

The Wahweap Marina is a solid basecamp for exploring the Glen Canyon National Recreation Area and the second-largest manmade lake in the U.S., Lake Powell. With that much space, it's hard to tell that nearly 3 million people stop by the area each year. Fishing, swimming, and kayaking are all favorites of visitors, but any water-based activity is even more exciting from a houseboat. Rent one—or a powerboat, paddleboard, kayak, or jet ski—at the marina.
Boaters can cruise in and out of secluded canyons or head 50 miles across Lake Powell to remote Rainbow Bridge National Monument, one of the world's largest known natural bridges. Considered sacred to the Navajo, Rainbow Bridge is also accessible via full-day tours out of the marina or a two-day hike around Navajo Mountain with a permit.
Distance: 130 miles to Wahweap Marina from North Rim
Approximate drive time: 2 hours, 50 minutes
Petrified Forest National Park, Arizona

Famous for its petrified logs, Petrified Forest is also home to ancient petroglyphs, Pueblo ruins, and the red and orange hues of the Painted Desert. The 28-mile drive through Petrified Forest National Park will take you past a variety of overlooks, but stepping out can bring you up close with the renowned landscape.
The short, one-mile Blue Mesa trail winds through badlands made of bluish bentonite clay, while the Giant Logs trail brings visitors past some of the park's largest fossilized wood. Rangers can also tell you about some off-the-beaten path hikes like Devil's Playground (free permits required) and Jasper Forest.
Often mistaken for a desert, the Petrified Forest is actually grassland. It's also home to the Painted Desert Inn, a National Historic Landmark that was once a rest stop for travelers along Route 66.
Distance: 195 miles from South Rim
Approximate drive time: 2 hours, 50 minutes
---
---
Cedar Breaks National Monument, Utah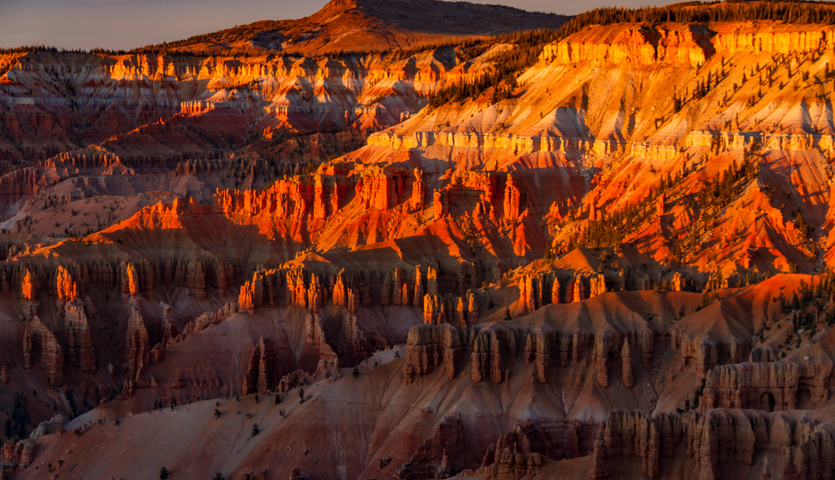 The bold striations within the Cedar Breaks amphitheater could easily be confused with Bryce Canyon—they're part of the same geological formation. More than 10,000 feet above sea level, the park has several heart-pumping hiking trails, including walks along the canyon rim and by a spring-fed alpine pond.
Though the road to the Cedar Breaks National Monument visitor's center, Utah Highway 148, shutters to cars for the winter, it remains open for visitors on skis, snowshoes, or snowmobiles. In the summer, the Cedar Breaks National Monument celebrates its variety of vibrant wildflowers and unaltered night skies with star parties hosted by park rangers.
Distance: 150 miles from North Rim
Approximate drive time: 3 hours
Mesa Verde National Park, Colorado

Nearly 5,000 archeological sites are protected by Mesa Verde National Park, including 600 cliff dwellings. From 600 to 1300 CE, the site was home to Ancestral Pueblo people. Self-guided and ranger-led tours—many involving climbing ladders—are available to various dwellings, depending on season.
Other hikes in the park take visitors by petroglyphs, overlooks on the archeological sites, and offer up sweeping panoramas of the surrounding area. Backcountry hikes, requiring advance tickets, offer visitors a glimpse at less-trodden areas of the park.
Distance: 280 miles from South Rim
Approximate drive time: 4 hours, 30 minutes
Canyon de Chelly National Monument, Arizona

Arizona's Canyon de Chelly National Monument is located entirely on Navajo tribal lands and requires no entrance fee. Beyond exploring two rim drives, 10 overlooks, and the publicly accessible White House Ruins Trail, you can hike or horseback-ride along the canyon floor with local tour operators. Hikers opting to use the public trail will descend 600 feet along a switchback trail before retracing their steps back.
For the most part, Canyon de Chelly offers a leisurely respite from the more active requirements of other parks. Many of its distinctive features, like Spider Rock (a tall sandstone spire that rises from the canyon floor), are viewable from the overlooks.
Distance: 220 miles from South Rim
Approximate drive time: 4 hours
---
---
Saguaro National Park, Arizona

The two units that make up Saguaro National Park are divided by the city of Tucson—convenient for a lunch break or overnight stay. The stereotypical symbol of the West, the giant saguaro is the country's largest cactus—and there are more than 1.5 million of them between the Tucson and Rincon mountain districts of Saguaro National Park.
Both areas of Saguaro National Park have loop drives with several overlooks and trailheads that offer more than 150 miles of hiking, including one trail in the Tucson Mountain District that takes you past well-preserved petroglyphs. And the Sonoran desert doesn't disappoint with its sunsets, so consider sticking around until dusk.
Distance: 337 miles from South Rim
Approximate drive time: 5 hours
El Malpais National Monument, New Mexico

Formed by volcanic activity over the past million years, El Malpais National Monument is full of cones, caves, and other formations that sit in stark contrast to the surrounding landscape. Much of the area is covered in lava flows, leading some to compare it to the moon. The Lava Falls Loop Trail brings you through surreal landscapes. Or you can opt to hike part of the Continental Divide National Scenic Trail.
Perhaps the best reason to visit El Malpais National Monument is the caving. Free mandatory cave permits allow you to scramble over boulders and explore lava tube caves, including the Giant Ice Cave, with its season ice columns and perennial ice floor.
Distance: 358 miles from South Rim
Approximate drive time: 5 hours
Timpanogos Cave National Monument, Utah

Generally open mid-May through September, the three caves that make up Timpanogos Cave National Monument require, for the preservation of the cave, a guide. Reserve your tour tickets 30 days in advance to ensure you get the day and time you want. A 1.5-mile trail, gaining around 1,100 feet, leads to the cave entrance, offering up sprawling views of American Fork Canyon and Utah Valley. Time spent in the cave lasts about an hour and takes you through the natural entrance, past underground pools and dramatic draperies.
For those who want to do a bit more bending, crawling, and climbing, the Introduction to Caving Tour is limited to five people and gives you a more in-depth look into caving safety and etiquette away from the developed trails.
Distance: 367 miles from North Rim
Approximate drive time: 6 hours
---
---
Chiricahua National Monument, Arizona

The longest of the drives on this list brings you to fee-free Chiricahua National Monument, and its small crowds and awe-inspiring geological formations don't disappoint. Made of ash from a volcanic eruption millions of years ago and chiseled by ice and water, the rock features that fill Chiricahua National Monument may remind you of the hoodoos found in Bryce Canyon, only with a mossy green tinge instead of a burnt orange.
An eight-mile scenic drive offers trailhead access to 17 miles of day-use hiking, including paths that wind above, among, and around the towering rocks. The Chiricahua Mountains are home to plants and animals from the Rocky Mountains, Mexico's Sierra Madre Mountains, and the Sonoran and Chihuahuan deserts, making this an interesting area for spotting diverse wildlife.
Distance: 460 miles from South Rim
Approximate drive time: 6 hours, 40 minutes
Read the original story: 10 Must-See Natural Wonders Near the Grand Canyon by Kate Sitarz, who is a contributor to SmarterTravel.
Stay on top of breaking sales, fare drops, and more! Follow us on Twitter @Airfarewatchdog. And make sure to sign up for FREE airfare alerts to be notified when prices drop.
Photo: John Hoffman / Shutterstock
All products and services mentioned on Airfarewatchdog are independently selected by our team of expert travelers. If you buy something through our links, we may earn an affiliate commission.